What Links Rs 30,252 Crore And Banks?
F-R-A-U-D-S!
The value of frauds continued to decline in FY23, with banks reporting an overall defrauded figure of Rs 30,252 crore (Rs 302.52 billion) in FY23, compared with 59,819 crore (Rs 598.19 billion) in FY22.
Private sector banks reported the maximum number of frauds in 2022-2023, while the share of public sector banks in terms of the overall amount defrauded continued to top the table in 2022-2023.
Frauds by volume have occurred predominantly in the digital payments space. However, in value terms, they have been reported primarily in loan portfolios (advances category).
The total amount scammed continued to dip during 2022-2023, down 49 per cent over 2021-2022.
While small-value card/internet frauds accounted for most of the frauds reported by private sector banks, those in public sector banks were mainly in loan portfolios.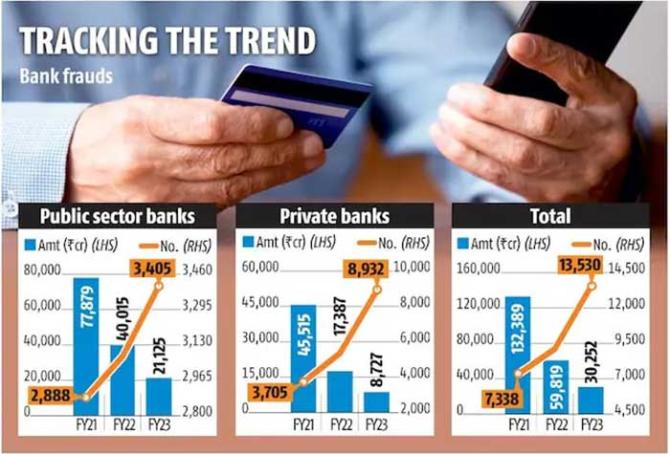 Feature Presentation: Ashish Narsale/Rediff.com
Crest Nicholson Posts HY Profit
Residential housebuilder Crest Nicholson Holdings Plc. (CRST.L) reported that its profit attributable to equity shareholders for the six months ended 30 April 2023 was 21.1 million pounds or 8.2 pence per share compared to a loss of 42.2 million pounds or $16.5 pence per share in the prior year.
Adjusted earnings per share was 6.1 pence down from 15.7 pence last year.
Profit before tax was 28.4 million pounds compared to a loss before tax of 52.5 million pounds in the previous year. The latest period result included a 7.5 million pounds net exceptional credit relating to combustible materials.
Revenue for the period declined to 282.7 million pounds from last year's 364.3 million pounds, reflecting the economic uncertainty and lower confidence in the housing market during the first half.
The company expects fiscal year 2023 adjusted profit before tax to be line with published consensus of 73.7 million pounds.
The company has declared an interim dividend of 5.5 pence per share, payable on 13 October 2023 to shareholders on the register on 22 September 2023.
Edinburgh Worldwide Investment Trust H1 Pretax Loss Widens On Revenue Basis
Edinburgh Worldwide Investment Trust plc (EWI.L) posted a first half pretax loss of 58.7 million pounds compared to a loss of 458.1 million pounds, prior year. Loss per share was 15.03 pence compared to a loss of 113.03 pence.
For the six months to 30 April 2023, on a revenue basis, pretax loss was 1.2 million pounds compared to a loss of 0.9 million pounds, previous year. Loss per share, on a revenue basis, was 0.31 pence compared to a loss of 0.23 pence.
The Group noted that no interim dividend has been declared.
For more earnings news, earnings calendar, and earnings for stocks, visit rttnews.com.
Mitie Group Annual Earnings Rise
Outsourcing company Mitie Group plc (MTO.L), on Thursday reported higher annual earnings on higher revenues that exceeded 4 billion pounds for the first time on new contract wins, renewals and extensions.
Annual profit before tax increased to 151 million pounds from 147 million pounds last year.
Adjusted profit before tax was 106 million pounds compared to 52 million pounds of the prior year.
Earnings remained the same at 128 million pounds, same as the previous year.
Earnings per share increased 3.3 percent to 9.5 pence from 9.2 pence of last year.
Adjusted earnings were 91 million pounds or 6.8 pence per share compared to 31 million pounds or 2.2 pence per share of the prior year.
Revenues increased to 4.055 billion pounds from 3.997 billion pounds in the prior year.
Looking ahead to the fiscal year of 2024, the company is confident in meeting its growth expectations for the year.
On Wednesday, shares of Mitie Group closed at 96.40 pence, up 2.34% or 2.20 pence on the London Stock Exchange.
Eight children 'stabbed in playground by knifeman' in France short the same
Eight children have reportedly been stabbed after a knifeman wearing a turban launched an attack in a small playground in Annecy, France. 
MORE TO FOLLOW… 
We use your sign-up to provide content in ways you've consented to and to improve our understanding of you. This may include adverts from us and 3rd parties based on our understanding. You can unsubscribe at any time. More info
Pre-market Movers: AGBA, QSG, AI, OKTA, AULT…
The following are some of the stocks making big moves in Thursday's pre-market trading (as of 07.25 A.M. ET).
In the Green
AGBA Group Holding Limited (AGBA) is up over 35% at $2.19.
QuantaSing Group Limited (QSG) is up over 23% at $10.66.
Ault Alliance, Inc. (AULT) is up over 18% at $13.15.
Chewy, Inc. (CHWY) is up over 17% at $34.68.
VCI Global Limited (VCIG) is up over 16% at $3.16.
Nanobiotix S.A. (NBTX) is up over 13% at $5.21.
Veeva Systems Inc. (VEEV) is up over 8% at $180.02.
LiveWire Group, Inc. (LVWR) is up over 6% at $8.65.
Alteryx, Inc. (AYX) is up over 5% at $40.92.
In the Red
C3.ai, Inc. (AI) is down over 21% at $31.53.
Okta, Inc. (OKTA) is down over 19% at $72.88.
Lexicon Pharmaceuticals, Inc. (LXRX) is down over 17% at $2.72.
Victoria's Secret & Co. (VSCO) is down over 15% at $17.26.
Carrols Restaurant Group, Inc. (TAST) is down over 14% at $4.70.
Lucid Group, Inc. (LCID) is down over 12% at $6.79.
T Stamp Inc. (IDAI) is down over 12% at $2.21.
CrowdStrike Holdings, Inc. (CRWD) is down over 10% at $143.40.
Panbela Therapeutics, Inc. (PBLA) is down over 9% at $6.10.
Salesforce, Inc. (CRM) is down over 6% at $209.68.