Webster Financial Q2 Adj. EPS Tops Estimates
Bank holding company Webster Financial Corp. (WBS) on Thursday reported that second-quarter net income available to common shareholders was $178.15 million or $1.00 per share, compared to $92.07 million or $1.01 per share in the prior-year quarter.
Excluding merger-related expenses, adjusted earnings would have been $1.29 per share for the quarter.
On average, ten analysts polled by Thomson Reuters expected the company to report earnings of $1.25 per share for the quarter. Analysts' estimates, usually, exclude one-time items.
Net interest income surged to $486.66 million from $220.85 million in the year-ago quarter. The company's non-interest income also surged to $120.93 million from $72.70 million in the prior-year period.
Provision for credit losses was $12.24 million during the quarter, compared to a benefit of $21.50 million a year ago.
For more earnings news, earnings calendar, and earnings for stocks, visit rttnews.com
Huntington Bancshares Q2 Profit Beats Estimates
Huntington Bancshares Incorporated (HBAN) reported second quarter net income of $539 million, or $0.35 per share, compared to a loss of $15 million or $0.05 per share, prior year. Adjusted earnings per share was $0.36, excluding $0.01 per share of after-tax of notable items. On average, 16 analysts polled by Thomson Reuters expected the company to report profit per share of $0.34, for the quarter. Analysts' estimates typically exclude special items.
FTE total revenue was $1.75 billion, an increase of 36% from last year. FTE net interest income was $1.27 billion, up 50% from prior year. Analysts on average had estimated $1.70 billion in revenue.
For more earnings news, earnings calendar, and earnings for stocks, visit rttnews.com.
Pre-market Movers: TBLT, SMCI, ELBM, MODD, SDIG…
The following are some of the stocks making big moves in Thursday's pre-market trading (as of 07.55 A.M. ET).
In the Green
ToughBuilt Industries, Inc. (TBLT) is up over 21% at $5.10
Super Micro Computer, Inc. (SMCI) is up over 20% at $54.72
Electra Battery Materials Corporation (ELBM) is up over 19% at $3.37
Modular Medical, Inc. (MODD) is up over 17% at $5.50
Home Point Capital Inc. (HMPT) is up over 14% at $3.99
Gorilla Technology Group Inc. (GRRR) is up over 13% at $14.97
Ellington Residential Mortgage REIT (EARN) is up over 12% at $8.92
Blue Apron Holdings, Inc. (APRN) is up over 10% at $3.51
Fluor Corporation (FLR) is up over 8% at $26.98
Nokia Oyj (NOK) is up over 7% at $5.05
In the Red
Stronghold Digital Mining, Inc. (SDIG) is down over 15% at $2.71
Applied Blockchain, Inc. (APLD) is down over 15% at $2.11
Verve Therapeutics, Inc. (VERV) is down over 13% at $30.99
Carnival Corporation & plc (CCL) is down over 12% at $9.75
Carnival Corporation & plc (CUK) is down over 10% at $8.65
Pagaya Technologies Ltd. (PGY) is down over 9% at $5.64
WeTrade Group, Inc. (WETG) is down over 8% at $18.12
JE Cleantech Holdings Limited (JCSE) is down over 7% at $2.77
Italian PM Mario Draghi Resigns After Losing Support Of Key Allies
Mario Draghi has resigned as Prime Minister of Italy's unity government.
Although Draghi won a confidence vote in the parliament on Wednesday night by 95 to 38, three key allies in his coalition boycotted the vote.
Draghi, who earlier said he doesn't wish to continue in office unless there is unity from his coalition partners, submitted his resignation to President Sergio Mattarella at the presidential palace in Rome on Thursday morning.
Draghi's resignation pushes the European Union's third-largest economy into another political uncertainty a year-and-a-half after he assumed office.
The former head of the European Central Bank was appointed Prime Minister in February 2021 with the task of leading the government through the Covid pandemic and economic recovery.
The current parliament's term expires in the first half of 2023, but chances are that the country will go for snap polls in October, reports say.
East West Bancorp Declares Q3 Cash Dividend Of $0.40 Per Share
While reporting financial results for the second quarter on Thursday, East West Bancorp (EWBC) announced that its Board of Directors has declared third quarter 2022 cash dividend of $0.40 per share for the Company's common stock, payable on August 15, 2022, to stockholders of record on August 1, 2022.
20 Wines Under $20: Great Summer Values
The selection in stores is a little thin as the global economy has slowed, but plenty of great seasonal bottles are still available.
Send any friend a story
As a subscriber, you have 10 gift articles to give each month. Anyone can read what you share.
By Eric Asimov
Cano Health Stock Continues To Surge
Shares of Cano Health, Inc. (CANO) are trading more than 8 percent, continuing bullish for the last several on reports of takeover interests from Humana. There were no corporate announcements on the day to influence the stock.
Currently, the shares of the primary care medical services company are at $277.00, up 8.20 percent from the previous close of $256.00 on average volume of 1,063,190. The shares have traded in a range of $233.71-$333.96 on average volume of 2,566,296.
Realtor.com chief economist shares her advice for homebuyers and sellers
(CNN)Mortgage rates ticked higher for the second week in a row as more economic indicators flashed warning signs of an impending recession.
The 30-year fixed-rate mortgage averaged 5.54% in the week ending July 21, up from 5.51% the week before, according to Freddie Mac. That is significantly higher than this time last year when it was 2.78%.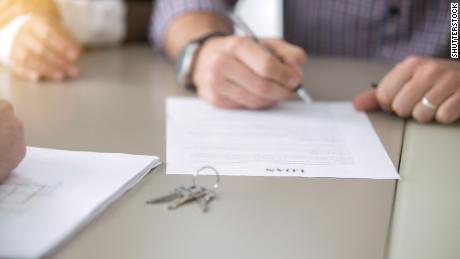 Rates have risen sharply since January, hitting a year high of 5.81% in mid-June. But since then, economic concerns have made rates more volatile. Rates dropped the first week in July, notching the biggest one-week dip since 2008.
"The housing market remains sluggish as mortgage rates inch up for a second consecutive week," said Sam Khater, Freddie Mac's chief economist. "Consumer concerns about rising rates, inflation and a potential recession are manifesting in softening demand. As a result of these factors, we expect house price appreciation to moderate noticeably."
This is a developing story and will be updated.