Apple To Slow Down Hiring, Spend Less In 2023
iPhone maker Apple Inc (AAPL) has plans to slow down hiring and spending growth in 2023 in some units to cope with a potential economic downturn. The potential move would see the company join a growing group of American companies like Meta Platforms (META) and Tesla Inc (TSLA) in slowing hiring.
According to reports, the changes would not affect all teams and the company was still planning an aggressive product launch schedule in 2023 that includes a mixed-reality headset, its first major new category since 2015.
Market analysts said, "Apple's move reflects a broader slowdown in investing in new things, new companies and new products. It signifies that inflation is an issue for these companies."
Fears had risen in recent months that aggressive interest rate hikes by the Federal Reserve could put the economy into a recession. The price pressures have also raised worries that customers could curb spending on discretionary items like smartphones.
Smartphone shipments declined 9% in the second quarter, according to reports. Still, Apple's iPhones remain among the most sold phones in the world, with the company holding a 17 percent market share just behind market leader Samsung, the data showed.
Apple typically launches a new version of its iPhone and other wearable products in September ahead of the busy holiday season.
As of its last annual report, the company had about 154,000 full-time equivalent employees.
Natierra Organic Freeze-Dried Blueberries Recalled Over High Levels Of Lead
BrandStorm Inc. has voluntarily recalled 2 lots of Natierra Organic Freeze-Dried Blueberries sold nationwide because they could contain too much lead.
According to FDA's statement, the recalled dried blueberry pouches could have the presence or potential presence of lead above the FDA's recommended limits.
People with high blood levels of lead may show no symptoms, but the condition may cause damage to the nervous system and internal organs. Acute lead poisoning may cause a wide range of symptoms, including abdominal pain, muscle weakness, nausea, vomiting, diarrhea, weight loss, and bloody or decreased urinary output. Children are particularly vulnerable to lead poisoning.
If a child is exposed to enough lead for a protracted period of time permanent damage to the central nervous system can occur. This can result in learning disorders, developmental defects, and other long-term health problems.
The recall involves two lots of the berries with best-by-dates of December 2024 and January 2025 sold through retail and online stores. Consumers should discard and not eat Natierra Organic Freeze-Dried Blueberries 1.2-ounce with lot code 2021363-1 or 2022026-1, according to the recall.
OSHA Inspects Amazon Warehouses
Amazon (AMZN) warehouses in New York City and other parts of the country are being inspected by federal prosecutors and the Department of Labor as part of a civil investigation into unsafe and unseemly workplace conditions, according to ABC News.
The inspections began Monday morning, according to the U.S. Attorney's Office for the Southern District of New York.
"This morning, the United States Department of Labor's Occupational Safety and Health Administration entered Amazon warehouses outside New York City, Chicago and Orlando to conduct workplace safety inspections in response to referrals received from the United States Attorney's Office for the Southern District of New York concerning potential workplace hazards related, among other things, to Amazon's required pace of work for its warehouse employees," a spokesman said in a statement to ABC News.
Besides investigation on safety issues, the investigators are also looking for "possible fraudulent conduct designed to hide injuries from OSHA and others."
Over the last several years, Amazon has faced a number of complaints and probes over workplace safety, particularly around demanding tasks.
Woman shot dead in Denver is identified and police seek public's help in the case
Police on Tuesday identified a woman who was shot dead over the weekend and investigators asked for the public's help in the ongoing investigation.
The shooting happened at about 11:39 p.m. on Friday in the 1300 block of Xenia Street, police said.
The victim, 47-year-old Ma Kaing, was pronounced dead at the scene, police said on Tuesday. Kaing was among four people shot overnight Friday in the city.
Anyone with information on the shooting, or on a suspect, is asked to call Metro Denver Crime Stoppers at 720-913-7867.
Aurora police investigate homicide after man's body is found in vehicle
A man's body was found inside a vehicle in Aurora and police are investigating the incident as a homicide.
At 12:56 p.m. Tuesday officers found the unresponsive man in a vehicle in the 13200 block of East Mississippi Avenue, police said in a news release. The man was pronounced dead at the scene. A homicide investigation is underway.
The victim was not identified on Tuesday. The Arapahoe County Coroner's Office will determine the cause of the man's death.
Anyone with information on the incident is asked to call Metro Denver Crime Stoppers at 720-913-7867.
World's 4th Richest Man With Friends
Gautam Adani is now the fourth richest person on the planet.
The chairman of the Adani group overtook Bill Gates — once the richest man in the world — this week.
Adani and his family are worth $114 billion. Gates, who said he will donate $20 billion to his foundation, is in fifth place with wealth estimated at $102 billion.
Ahead of Adani are Tesla's Elon Musk, Louis Vuitton's Bernard Arnault and Amazon's Jeff Bezos.
Adani's wealth doubled in a year, and given that momentum, we could see the Ahmedabadi tycoon overtake Bezos by next year.
Mukesh Ambani, once Asia's wealthiest person, is six places below his Indian rival, in 10th spot with a wealth estimated at $88 billion.
Glimpses of Adani with world leaders: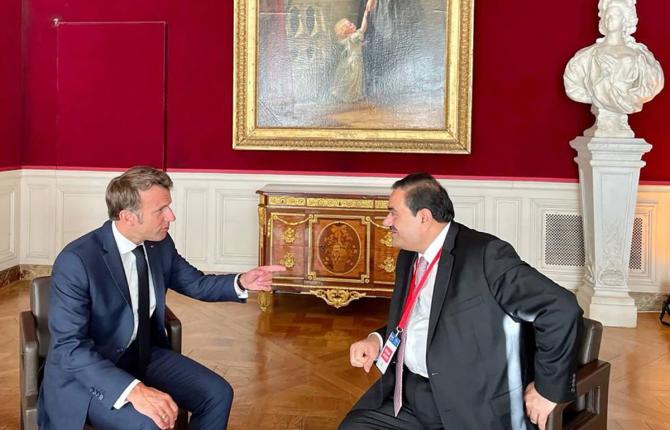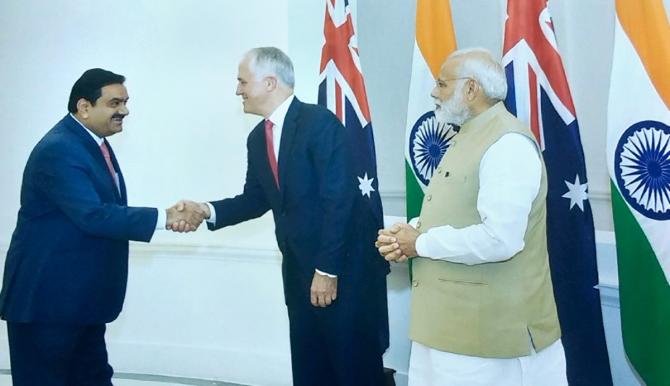 Photographs curated by Manisha Kotian/Rediff.com
Feature Presentation: Aslam Hunani/Rediff.com