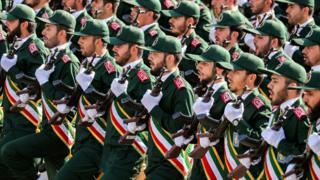 At least 20 Revolutionary Guards have been killed in a suicide bomb attack in south-eastern Iran, state media say.
The bomber targeted a bus transporting personnel on the road between the cities of Zahedan and Khash, which is near the border with Pakistan.
Twenty Guards were also wounded in the attack, the official Irna news agency cited an informed source as saying.
The Sunni militant group Jaish al-Adl (Army of Justice) has claimed it was behind the bombing.
Source: Read Full Article