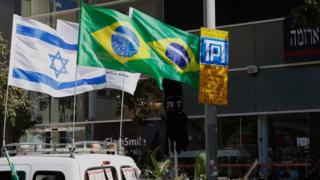 Israeli PM Benjamin Netanyahu has welcomed a decision by Brazil's president-elect to move its embassy from Tel Aviv to Jerusalem.
Mr Netanyahu praised it as "historic, [and] correct". Palestinians called the move "provocative and illegal".
Jair Bolsonaro, a far-right politician, expressed strong support for Israel during his election campaign.
Jerusalem's status is one of the most contentious issues between Israel and the Palestinians.
Israel considers the whole of Jerusalem as its capital, while the Palestinians seek East Jerusalem as the capital of a hoped-for Palestinian state.
As previously stated during our campaign, we intend to transfer the Brazilian Embassy from Tel-Aviv to Jerusalem. Israel is a sovereign state and we shall duly respect that.
End of Twitter post by @jairbolsonaro
"I congratulate my friend Brazilian president-elect Jair Bolsonaro for his intention to move the Brazilian embassy to Jerusalem, a historic, correct and exciting step!" Mr Netanyahu said in a statement.
But Palestinian official Hanan Ashrawi told AFP news agency such "provocative and illegal steps… will only destabilise security and stability in the region".
The US and Guatemala have recently moved their embassies to Jerusalem, but most countries choose to remain in Tel Aviv.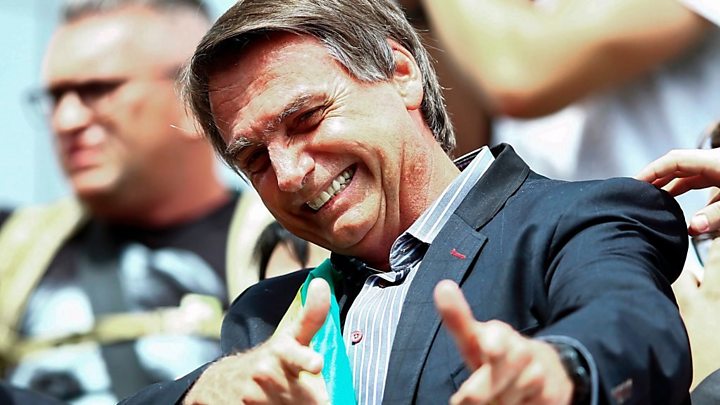 Why does it matter?
The status of Jerusalem goes to the heart of the Israeli-Palestinian conflict.
Israel regards Jerusalem as its "eternal and undivided" capital, while the Palestinians claim East Jerusalem – occupied by Israel in the 1967 Middle East war – as the capital of a future state.
Israeli sovereignty over Jerusalem has never been recognised internationally, and according to the 1993 Israel-Palestinian peace accords, the final status of Jerusalem is meant to be discussed in the latter stages of peace talks.
Since 1967, Israel has built a dozen settlements, home to about 200,000 Jews, in East Jerusalem. These are considered illegal under international law, though Israel disputes this.
Jerusalem is also home to key religious sites sacred to Judaism, Islam and Christianity, especially in East Jerusalem.
Source: Read Full Article