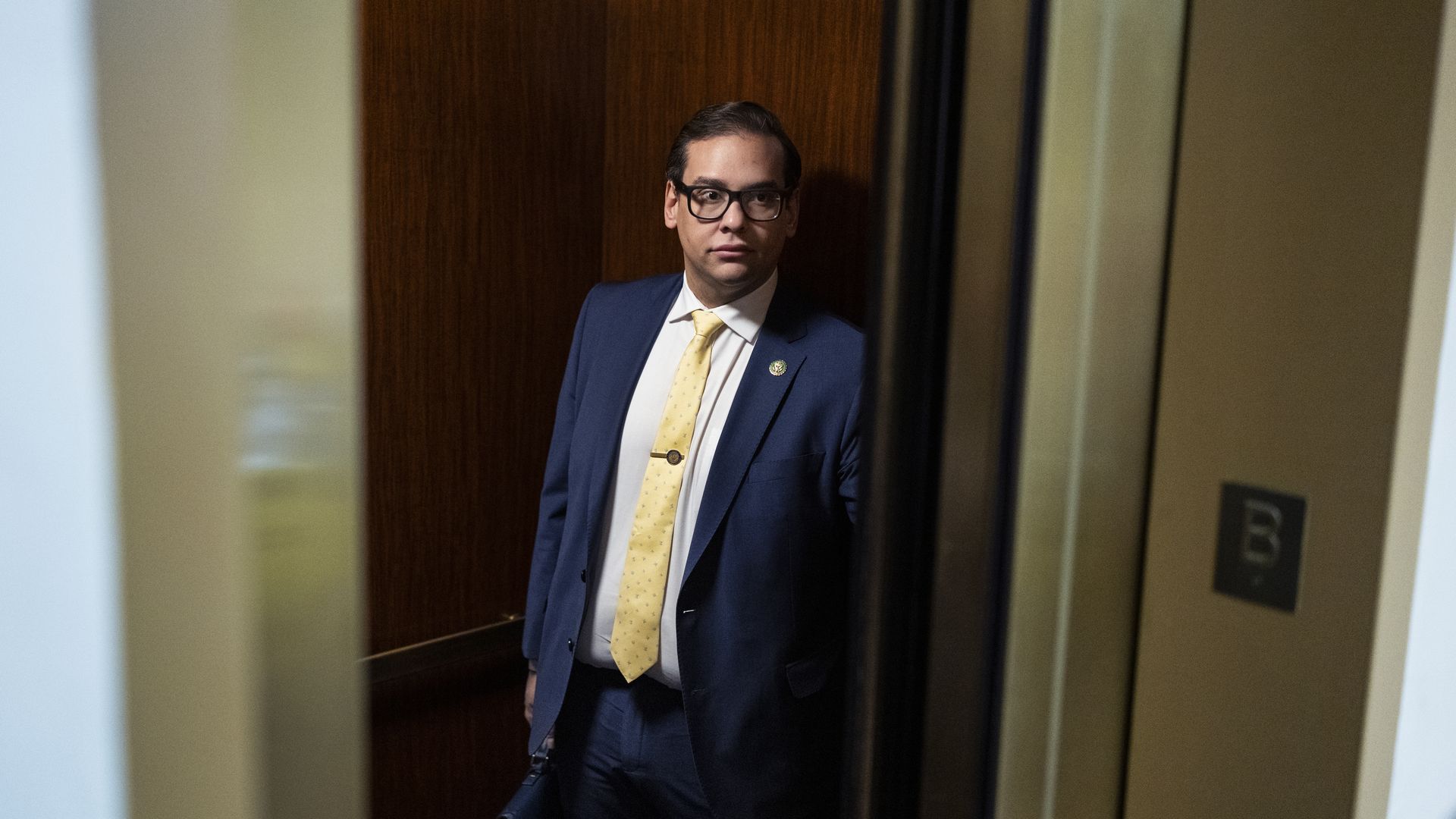 Rep. George Santos (R-N.Y.). Photo: Tom Williams/CQ-Roll Call Inc. via Getty Images
Joining other members of his party who have blasted Rep. George Santos (R-N.Y.), Sen. Mitt Romney (R-Utah) called the embattled lawmaker "a sick puppy" ahead of President Biden's State of the Union speech and said that he didn't belong in Congress.
The big picture: Republicans, including some House members, have been calling for Santos' resignation over revelations that he fabricated vast swaths of his resume, background and personal finances.
House Speaker Kevin McCarthy (R-Calif.) said last month that Santos will be removed from Congress if the House Ethics Committee finds he broke the law, the closest the California Republican has come to naming potential consequences for Santos.
Santos told colleagues he would step down from his assignments on the Small Business and Science Committees.
Driving the news: Rep. Nick LaLota (R-N.Y.), who had previously called on Santos to resign, referred to him as "a sociopath" on CNN's "State of the Union" on Feb. 8, adding: "He does not deserve to be in Congress."
Reps. Marc Molinaro (R-N.Y.) and Mike Lawler (R-N.Y.) in January joined the calls for Santos to resign — meaning all freshman House Republicans from New York have done so.
"I just don't see how he can fulfill his duty," Molinaro told Axios in an interview at the Capitol, adding that, if Santos remains in Congress, "I don't think he should serve on committees."
Lawler said in a statement that Santos has "lost the confidence and support of his party," and that "with the extent and severity of the allegations … I believe he is unable to fulfill his duties and should resign."
Of note: Rep. Nancy Mace (R-S.C.) joined the fray after initially calling for "due process," saying in a CNN interview that Santos should resign. She was the first House Republican from outside New York to call for Santos' resignation.
Rep. Max Miller (R-Ohio) issued a statement in January also calling for Santos to resign. "I believe voters have the right to hold government officials to the very highest standard of honesty and trustworthiness," Miller said.
"The people's representatives must respect the need for transparency and candor with Americans. It is not okay to fabricate or lie for political gain," he added. "This is especially true when the lie seeks benefit from the murder of millions of Jewish people. I do not believe George Santos can effectively serve and should resign."
The backdrop: Rep. Anthony D'Esposito (R-N.Y.), Santos' fellow Long Islander who holds the bluest seat of any Republican, opened the floodgates by becoming the first of Santos' colleagues to call for his resignation.
D'Esposito joined a group of Republican Party officials from Nassau County, a major chunk of both his and Santos' districts, calling for Santos' resignation.
Rep. Nick Langworthy (R-N.Y.), the chair of the New York GOP, followed up in a statement: "I support the Nassau Republicans' decision today to request the resignation of George Santos."
LaLota previously told Axios, "I think he should resign … He hasn't shown any remorse, he hasn't corrected any of the behavior."
Rep. Brandon Williams (R-N.Y.) said in a statement: "The constituents in NY-3 elected Representative Santos in part due to his biographical exaggerations and apparent deceptions … He must resign."
Between the lines: McCarthy has so far resisted calling for Santos' resignation directly, saying previously that "the voters of his district have elected him."
McCarthy's posture has shifted in recent weeks and has signaled that his positioning could change after the Ethics Committee probe runs its course.
State of play: Santos' vote is critical for House GOP leadership as the party holds just a five-seat majority – and his seat could easily go to a Democrat in a special election.
What he's saying: Santos has said that he is "not concerned" about the mounting calls for his resignation or the House ethic probe, CNN reports.
"You're saying that the freedom of speech of my constituents is a distraction to my work?" Santos said.
"Do you think people are a distraction to the work I'm doing here?
What we're watching: Whether Democrats take the monumental step of introducing a privileged resolution to expel Santos from Congress.
A pair of New York Democrats in January filed an Ethics Committee complaint against Santos and introduced legislation requiring candidates for federal office to disclose more background information in response to Santos' scandals.
However, House Minority Leader Hakeem Jeffries (D-N.Y.) has suggested he's content to leave the heavy lifting to McCarthy, telling reporters at a press conference on Thursday: "This is an issue Republicans need to handle. Clean up your house."
Go deeper: McCarthy stands by Santos as GOP calls for his resignation mount
Editor's note: This article has been updated with additional reporting and developments.
Source: Read Full Article