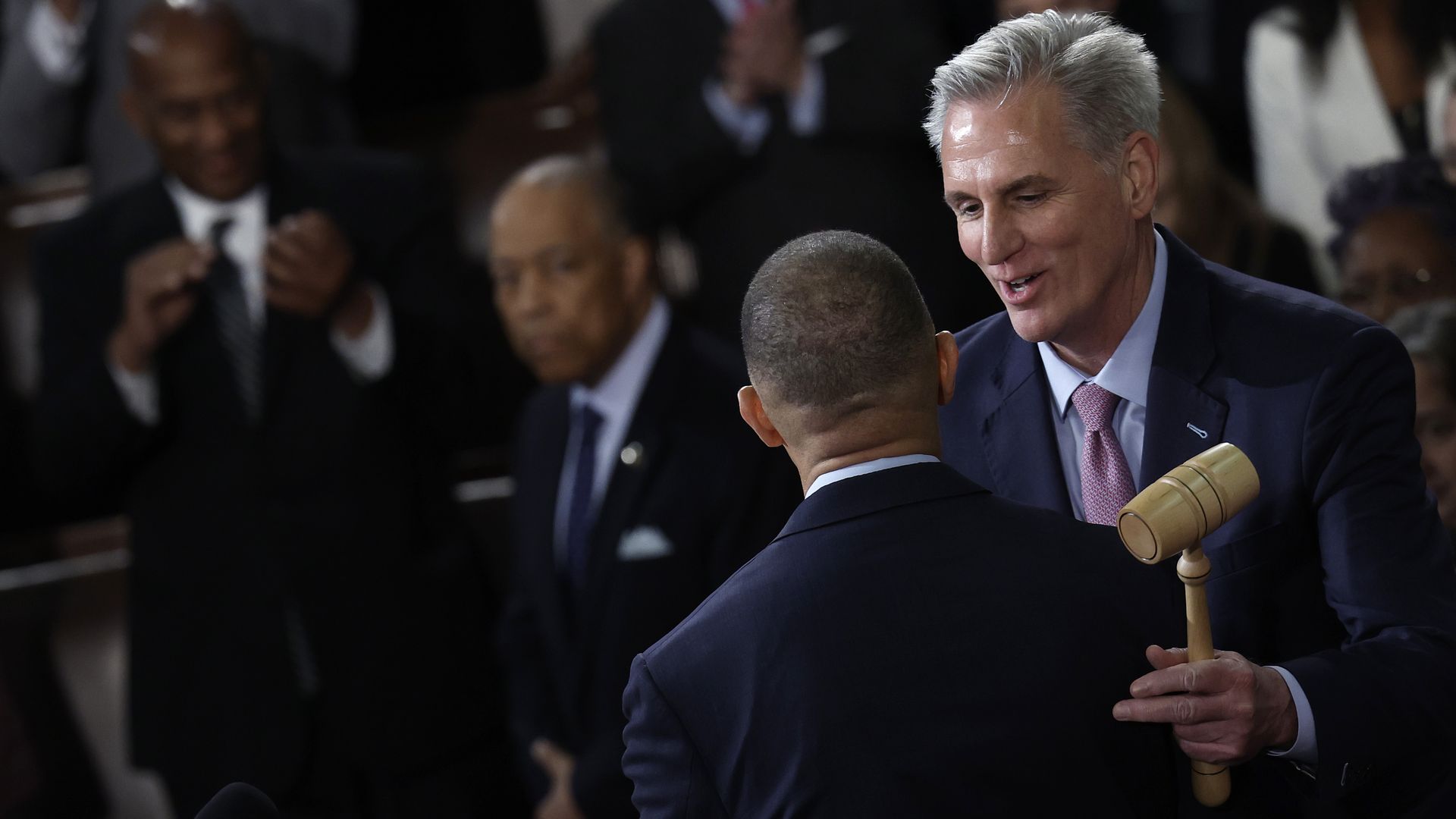 House Minority Leader Hakeem Jeffries and Speaker Kevin McCarthy. Photo: Anna Moneymaker/Getty Images.
House Speaker Kevin McCarthy (R-Calif.) and Minority Leader Hakeem Jeffries (D-N.Y.) have agreed to create a bipartisan task force to forge a new process for removing lawmakers from their committees, McCarthy's office confirmed to Axios.
Why it matters: The task force would address a partisan tit-for-tat over committee assignments that has seen five members of the minority party kicked off panels in the last two years.
That's a break from the long-standing precedent of party caucuses determining committee assignments internally.
The news of the task force was first reported by the Washington Post.
The backdrop: The most recent example was a party-line vote earlier this month to kick Rep. Ilhan Omar (D-Minn.) off the Foreign Affairs Committee.
That was in retaliation for all Democrats — and a handful of Republicans — voting to kick Reps. Marjorie Taylor Greene (R-Ga.) and Paul Gosar (R-Ariz.) off their committees in 2021.
McCarthy also removed Reps. Adam Schiff (D-Calif.) and Eric Swalwell (D-Calif.) from the House Intelligence Committee last month.
What we're watching: Talks are in their early stages and Jeffries is expected to name members to the task force, according to a senior leadership aide. Who the two party leaders choose will signal whether it's a serious effort toward bipartisan compromise.
McCarthy has said his picks will include Rep. Ken Buck (R-Colo.), and Rep. Nancy Mace (R-S.C.) said she was also promised a spot. Both resisted removing Omar, before falling in line in exchange for McCarthy's vow to kickstart talks to reform the process.
"We'll work to … clarify the rules and pass something for not only this Congress but future congresses as well," McCarthy said after the Omar vote.
Source: Read Full Article