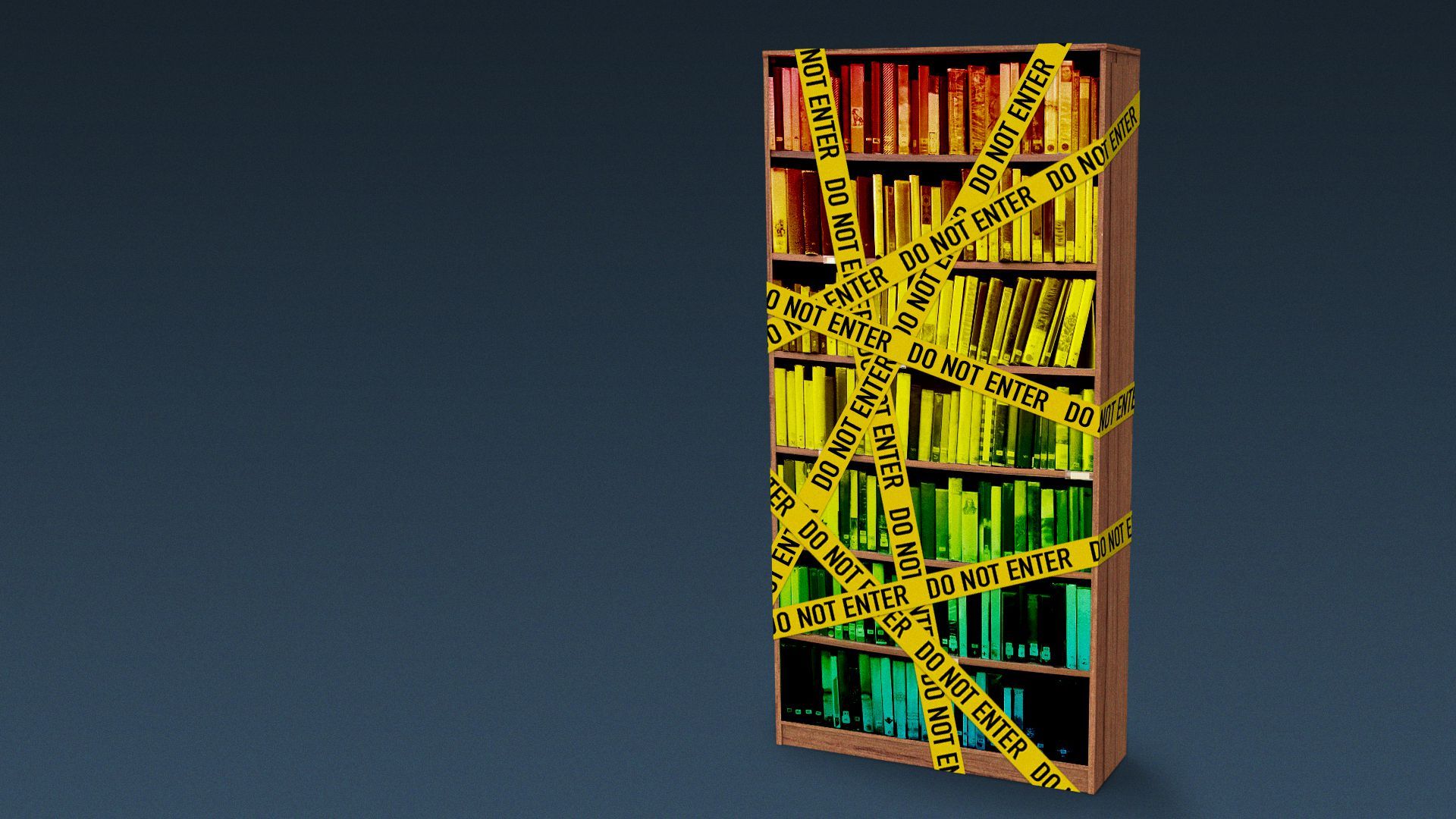 Illustration: Maura Losch/Axios
Jonathan Mitchell, the Austin attorney widely credited with devising the legal strategy for a Texas law that bans abortion after six weeks and also empowers private citizens to bring lawsuits against those who violate it, is now applying the same novel legal mechanisms to book bans.
Why it matters: Draft city ordinances allegedly written by Mitchell could lead to Texans suing librarians and others for their decisions about which books to put on shelves — or for expressing LGBTQ+ support.
The maneuvering shows how efforts to ban books are playing out in communities across Texas — as well as the statehouse.
Context: The effort comes as local libraries and school districts face pressure to remove from shelves certain books that address race, racism, sexuality, abortion and LGBTQ+ identity as part of the nation's latest culture war battle.
Mitchell represents Llano County, northwest of Austin, in a civil lawsuit brought by seven residents who claim their First Amendment rights were violated after county officials removed books from shelves.
Between the lines: Bonnie Wallace, Llano County library advisory board's vice chair, stepped into the role last year as part of a conservative takeover of the library system.
Appearing before a Hill Country Republican women's group in September, Wallace said Mitchell told her he could "craft municipal ordinances that city and/or county governments can enact that would immediately make pornography in the libraries illegal," per a copy of a message from Wallace displayed by the group, posted online and obtained by Axios.
Mitchell was writing "Safe Library Patron Protection" ordinances for 10 communities — and "there are another 10 in the pipeline," per the September message.
Of note: Mitchell did not respond to interview requests and Wallace refused, citing ongoing litigation. Axios was not able to independently corroborate which, if any, communities were considering these ordinances.
Zoom in: In December, a draft of the Safe Library Patron Protection ordinance was submitted for consideration to the Abilene City Council by Ryan Goodwin, a pastor who is now running for mayor.
The draft ordinance — a copy of which, marked privileged and confidential, was obtained by Axios — says the library may not purchase any item containing "immoral content" or allow people in drag to read to children.
Librarians also may not put on the shelves any book in the young adult section that includes descriptions of nudity, "any type of sexual act between individuals," masturbation, cross-dressing, suicide, self-harm, or "excretory functions."
The draft ordinance also bars librarians and any other city employees from displaying LGBTQ+ flags or emblems — or "tak[ing] any action that … acknowledges the month of June or any other period of time as LGBTQ Pride Month."
The intrigue: Crucially, the draft ordinance includes a "private right of action" that allows any person to bring a civil action against anyone who violates the ordinance's provisions — including against the library if staff do not pull books from the shelves.
The ordinance calls for damages of at least $10,000 per violation, as well as legal costs and attorney fees.
That language closely resembles that of the anti-abortion law designed by Mitchell.
The Texas law empowers private citizens to sue anyone who "aids or abets" in a prohibited abortion. A private citizen who wins a lawsuit is entitled to $10,000 and the costs of attorney fees from those who were sued.
The abortion ban has thus far withstood legal challenges — and been emulated in other states.
Reality check: Submitted by Goodwin during his public testimony, the draft ordinance never got a vote — and the City Council did not discuss the proposal at any length.
Goodwin confirmed that Mitchell had written the draft ordinance — and tells Axios he has been in touch with activists in Lubbock, Amarillo, Waco, San Angelo and small communities near Houston who are trying to get it adopted by their cities or counties.
"This is about giving clear boundaries about what's acceptable and what's not, and if you're a librarian and you stretch outside that, you open yourself up to a lawsuit. I feel there's way too much suing going on, but here's a books umbrella, and if you choose to go out from under the umbrella, you might get rained on," Goodwin tells Axios.
The other side: The prospect of the ordinances is "incredibly alarming," Shirley Robinson, executive director of the Texas Library Association, tells Axios.
"Libraries are in place to serve all members of the community, not just the majority. The have a responsibility, like healthcare workers, to serve everyone who comes through their doors," she said.
Zoom out: At least a dozen bills at the Texas Legislature aim to restrict book access in libraries, including barring librarians from defending themselves against obscenity charges on grounds that books they shelved have scientific or educational justification.
Other legislation would change the punishment of distribution of certain harmful material to a minor from a misdemeanor to a felony.
What's next: Wallace submitted a letter in January to Gov. Greg Abbott, signed by nearly 1,200 people, asking him to designate legislation "to stop the sexualization of Texas children, including ridding our schools of pornographic, sexually explicit and pervasively vulgar materials as an Emergency Item of the Governor's office."
Abbott will reveal his priority items on Thursday night.
Source: Read Full Article