As the prospect of a Brexit deal looms larger, we had thought that a minister or two, might throw in the towel.
We just didn't think the resignation would come from the side it did.
Instead of a livid Liam Fox, or pugnacious Penny Mordaunt, or one of the other senior Brexiteers, it was Jo Johnson, mid-ranking transport minister, younger brother of Boris, and ardent Remainer who has quit.
With it, he's calling for another referendum, or so-called "People's Vote", on Brexit.
Indeed, he went further than that.
In an excoriating online piece, Mr Johnson denounced the prime minister's handling of Brexit as "a failure of British statecraft on a scale unseen since the Suez crisis".
He also said that he could no longer accept the prime minister's ultimatum – that it is her deal or no deal at all, saying that is a false choice which will doom Britain to "vassalage".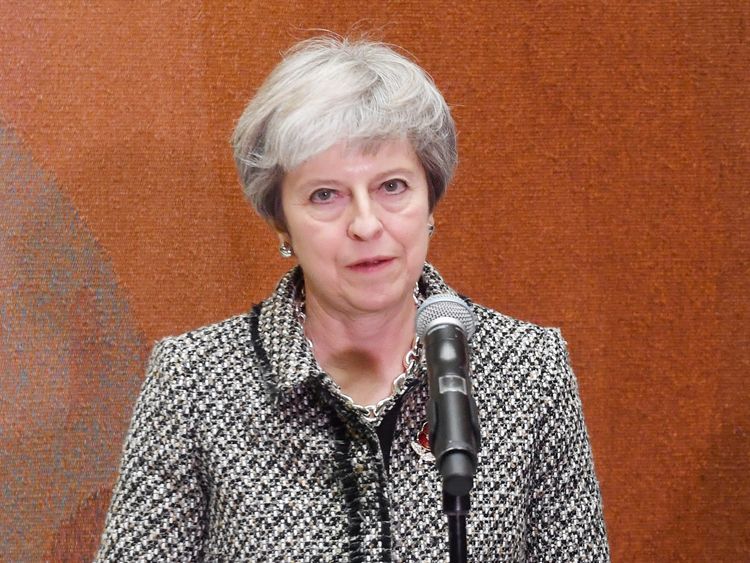 Mr Johnson's resignation will not rock the government as violently as did that of his brother's, only a few month ago.
But it is, for the prime minister, a menacing portent.
When it comes to the final showdown, getting her deal through parliament Theresa May already faced a huge problem with the Brexiteer wing of her party.
On my assessment, whatever the PM brings back from Brussels, it is virtually certain that there are around 30 of her own most die-hard MPs who will resist her come what may.
:: Five key points from his resignation blog post
The parliamentary arithmetic, for her deal then, was tortuous.
If Mr Johnson is symptomatic of a wider shift amongst Remainer Conservative MPs, that they too reject May's dichotomy that it is her deal or bust, then the PM is in real trouble.
She might – just – have been able to corral the support of enough Labour MPs, frightened of the economic consequences of "no-deal", to compensate for the shortfall of a few Tory Leavers.
There is no way she can plug a second gap. She could just about afford one splinter cell. Not two.
Mr Johnson's behaviour does echo a shift that's taken place among more moderate, centrist figures in the Tory parliamentary party in recent months.
Hitherto the complaints about the PM's conduct were largely limited to the Brexiteers.
That sense of unease, of lack of trust in the PM's judgement, has spread to new quarters.
Indeed, one People's Vote source told me that Mr Johnson is not alone, that they are wooing another handful of Tory Remainers who might resign in the coming days.
The source said: "We think there are a handful of ministers who do not think that differently from Jo. We're working on them.
"Everyone has to make up their own mind. It's their choice about how best to represent the interests of their constituents and their country. Do I expect Johnson to be the last ministerial resignation? I don't."
An upsurge of support on the Tory benches for another referendum doesn't just pose problems for Downing Street.
Jeremy Corbyn too, already under pressure from his overwhelmingly Remainer grassroots, might just start to look ever so slightly awkward if he continues to resist calls to voice his support, as Tory after Tory does so.
Especially as the realisation grows that it is entirely possible, if he were to shift position, that there would possibly be a parliamentary majority for a new plebiscite.
But it is not Mr Corbyn's job to ram a deal through parliament.
The PM's problems are of a different order of magnitude.
It might be that an exodus of Remainers makes Brexiteers think twice before signing their resignation letters, fearful of her fall without foresight of the consequences.
Once again, Mrs May's weakness might prove her strength. But even if she survives the coming weeks, she can't run forever. Time has run out.
Stanley Johnson said that his son's decision reminded him of Tennyson's famous poem The Charge of the Light Brigade.
Of course, its most celebrated line: "Cannon to the left of them, cannon to the right" reminds me far more, of Theresa May, than of either Johnson.
If more Remainer resignations come and Mrs May continues to charge down the same course, it is now my belief that she will meet her political demise on the floor of the House of Commons, as a result of cannon from both sides of her own party.
Source: Read Full Article