Dominic Raab quit as Brexit secretary on Thursday morning – delivering a significant blow to the prime minister's chances of getting her agreement with Brussels approved by parliament.
His departure was followed by the resignation of Work and Pensions Secretary Esther McVey – with two junior ministers and several ministerial aides also quitting their roles in protest.
Speculation of further resignations has been swirling around Westminster since, as doubts grow about Mrs May's future in 10 Downing Street.
Other cabinet Brexiteers gave no public comment on the draft deal, which had been discussed at a five-hour meeting on Wednesday.
The turbulent developments shook financial markets, with the pound falling sharply and banking and housebuilding stocks also under pressure in early-day trading.
Despite the series of resignations from her government on Thursday, Mrs May attempted to face down criticism of her plans in a statement to the Commons – and subsequently answered dozens of questions from backbenchers.
She told MPs that her 585-page draft deal "delivers the Brexit the British people voted for", adding: "I choose to deliver for the British people. I choose to do what is in our national interest."
Labour leader Jeremy Corbyn told the prime minister that the document on the UK's withdrawal represents "a huge and damaging failure".
With his party having confirmed they will not support the draft agreement in a Commons vote, Mr Corbyn told Mrs May to "withdraw this half-baked deal".
:: We quit – Read each minister's resignation letter in full
A more serious blow to the prime minister's chances of successfully securing MPs' backing for her draft agreement came as the DUP's Nigel Dodds delivered a scathing attack on Mrs May.
The Westminster leader of the Northern Irish party, which props up the Conservative minority government, said: "I could today stand here and take the prime minister through the list of promises and pledges she made to this House and to us, privately, about the future of Northern Ireland in the future relationship with the EU.
"But I fear it would be a waste of time since she clearly doesn't listen."
Former Brexit minister Steve Baker told Mrs May her plans will be "ferociously opposed" by MPs as he urged the prime minister to trigger the government's "no-deal" Brexit plans he was previously responsible for.
Mrs May also faced a direct threat on her premiership, with Tory backbencher Jacob Rees-Mogg – who leads a faction of Conservative Brexiteers – set to submit a letter of no confidence in her leadership.
A spokesman for the prime minister has said Mrs May would fight a confidence vote should it be triggered by 48 Tory MPs submitting letters to 1922 Committee chairman Sir Graham Brady.
Anger at Mrs May's draft deal centred on its provisions for a backstop arrangement, which is aimed at preventing a hard border on the island of Ireland in the absence of an agreement on the future EU-UK relationship being ready by the end of the Brexit transition period in 2020.
This would see the UK remain in a customs union with the EU and abide by some EU rules, while Northern Ireland would follow a different regulatory regime.
In his resignation letter to the prime minister, Mr Raab told Mrs May he "cannot support an indefinite backstop arrangement" over which "the EU holds a veto over our ability to exit".
He wrote: "No democratic nation has ever signed up to be bound by such an extensive regime, imposed externally without any democratic control over the laws to be applied."
:: Aston Martin boss backs May's Brexit plan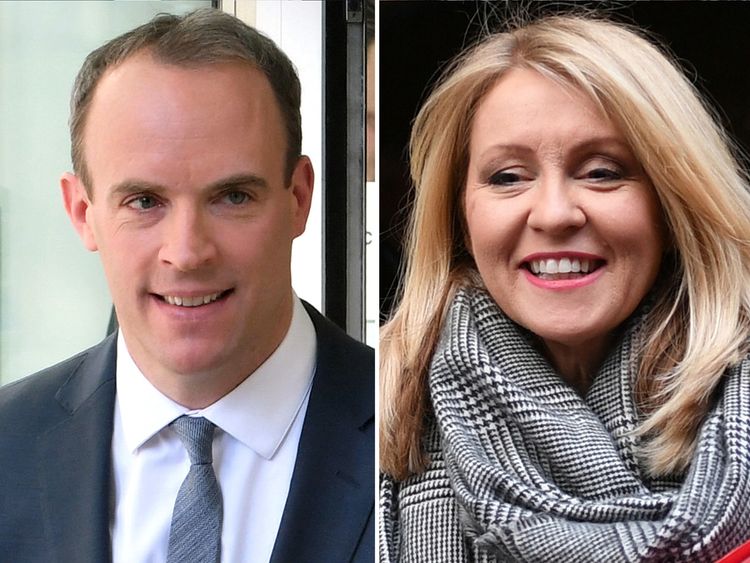 Mr Raab also expressed fears that the draft Brexit deal "presents a very real threat to the integrity of the UK" over its provisions for Northern Ireland, while he added the backstop arrangement would now be taken as the starting point for negotiations on the future EU-UK relationship.
Ms McVey echoed Mr Raab's criticisms of Mrs May's plans, while Northern Ireland minister Shailesh Vara and Brexit minister Suella Braverman also rejected the draft deal as they resigned their government roles.
Anne Marie Trevelyan quit as a parliamentary private secretary, claiming the negotiations have seen the "UK trying to appease the EU", while fellow PPS Ranil Jayawardena also resigned his role.
Despite the mounting criticism of her draft deal, Mrs May appeared determined to push on with her plans.
She was boosted earlier on Thursday when European Council president Donald Tusk confirmed EU leaders will gather for an emergency summit on 25 November in order to sign off on a Brexit deal.
However, he added the proviso the meeting, which will follow member states' analysis of the draft agreement, would only occur "if nothing extraordinary happens."
Source: Read Full Article