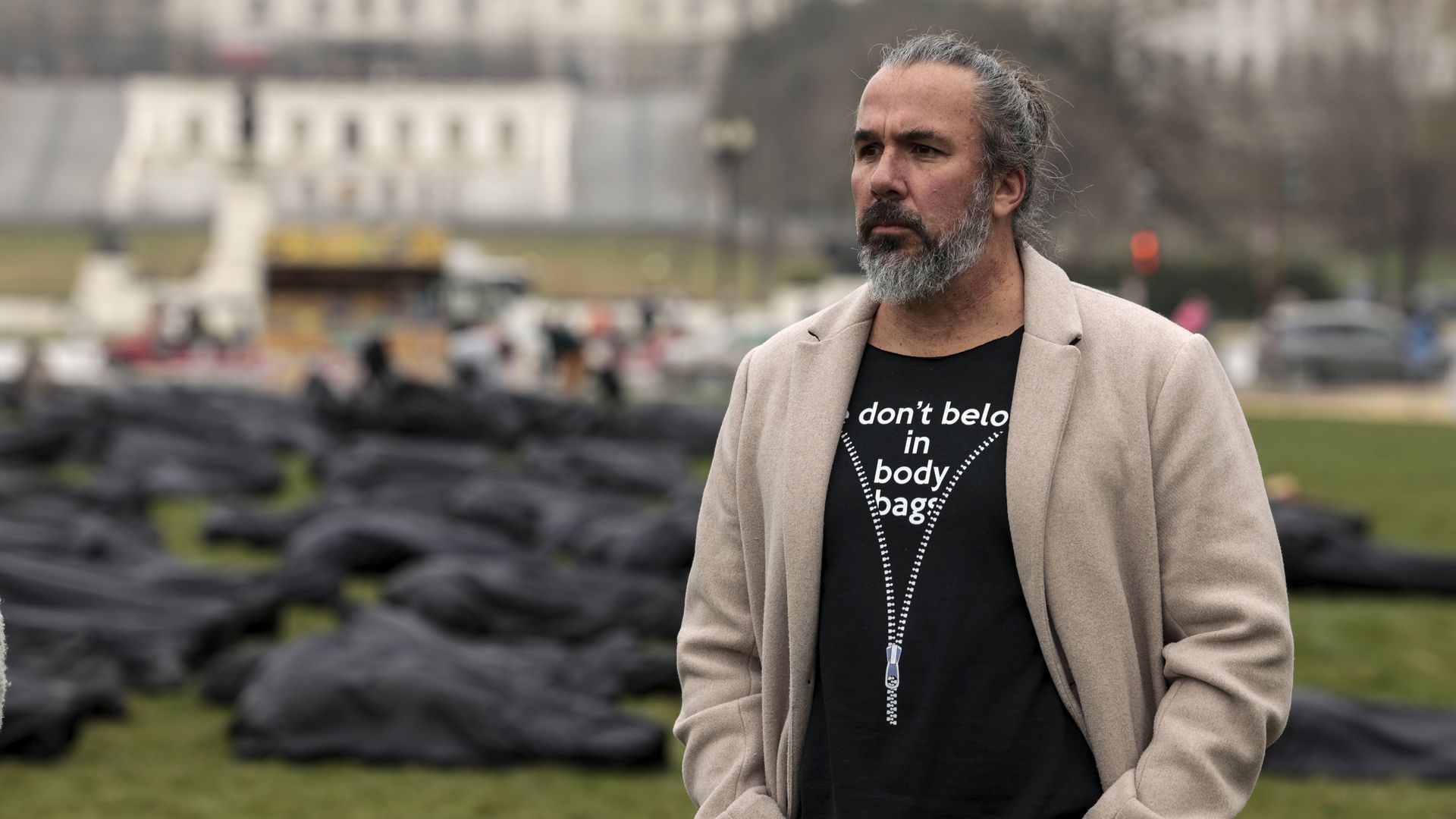 Manuel Oliver is pictured on March 24, 2022, in Washington, DC. Photo: Anna Moneymaker/Getty Images
The father of a Parkland shooting victim was arrested Thursday after disrupting a congressional hearing on gun regulations in Washington, D.C.
Driving the news: While Rep. Pat Fallon (R-Tex.) was speaking about gun regulations, Manuel Oliver, whose 17-year-old son Joaquin Oliver was killed in the 2018 mass shooting at Marjory Stoneman Douglas High School in Parkland, Florida, yelled "you're full of s–t, all of you,"video footage shows.
The footage appeared to show Oliver being removed from the hearing room and pinned down to the floor by Capitol Police before being arrested.
"Back up or you're going to jail next," an officer shouts at his wife, Patricia Oliver, as she stands over them while making the arrest.
Zoom in: "You took my son away from me, and I'm not going anywhere! I'm going to listen to your absurd things," Patricia Oliver can be heard saying.
"You're removed. You're breaching protocol and disorder in the committee room," Fallon said to her, according to the video footage.
Fallon can also be heard saying at one point, "Is this an insurrection? So will they be held to the same? I don't want another January 6."
Another video of the incident shared by Patricia Oliver shows a part of the confrontation as she was removed by Capitol Police.
Capitol Police did not immediately respond to Axios' request for comment.
What they're saying: Video shows Rep. Maxwell Frost (D-Fla.) confronting the officers while they were arrested Oliver, asking, "What's going on here?"
Frost later said on Twitter that he attended the hearing to discuss "common sense" gun reform measures.
"Instead the father of a student murdered in Parkland was thrown out & arrested because he had the audacity to disagree with the Republican lawmakers in the room," Frost said. "His son was murdered at the hands of a gun, & instead of showing him respect & compassion, Manny Oliver was arrested."
Of note: Oliver was also arrested last year after he climbed a crane in Washington, D.C., to hang a banner that read, "45K people died from gun violence on your watch," calling on President Biden to take action against gun violence.
Months later, he interrupted Biden's speech on gun control, urging the president to "do more."
Source: Read Full Article