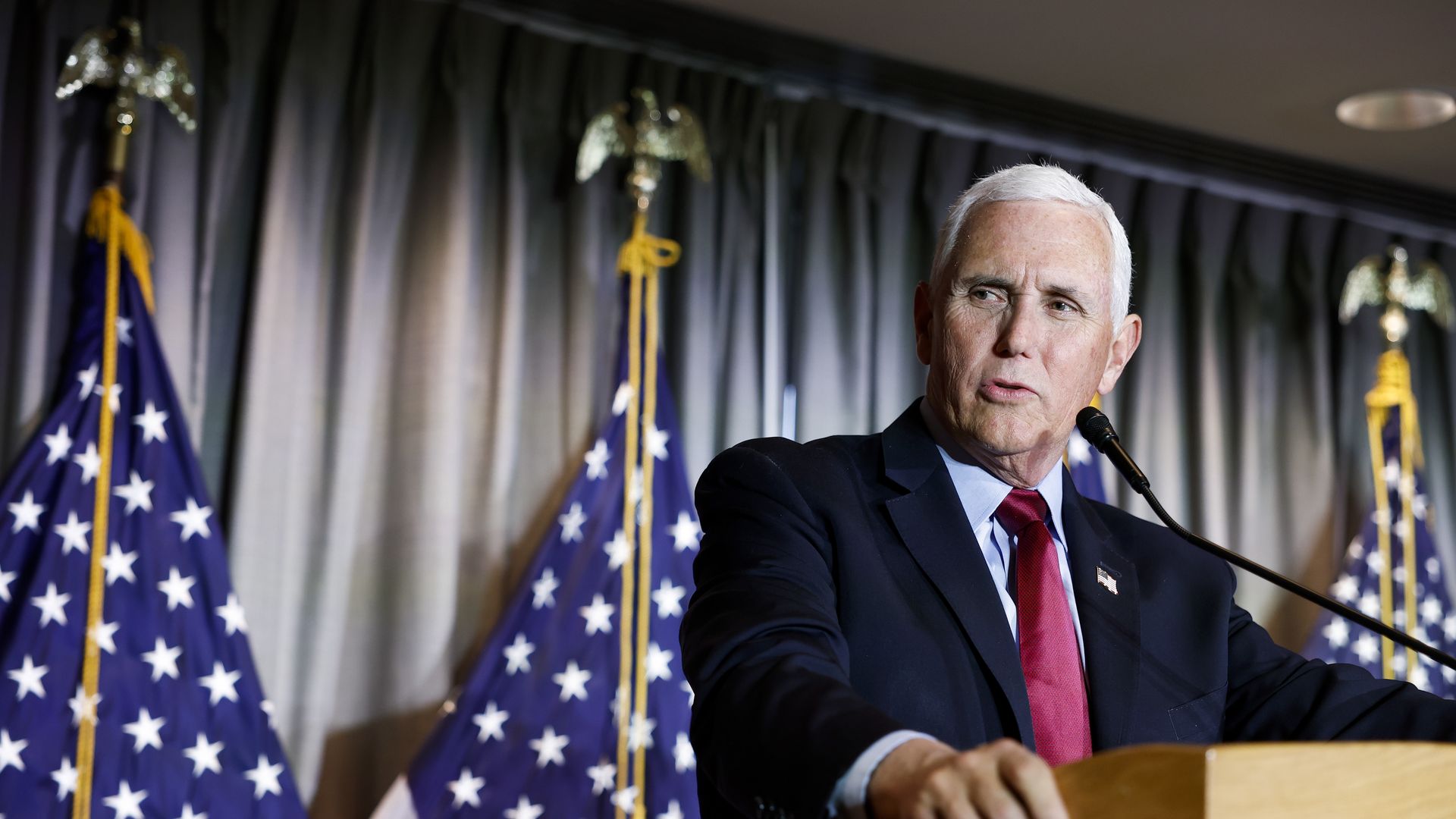 Former vice president Mike Pence gives remarks at the Calvin Coolidge Foundation's conference at the Library of Congress on Feb. 16, 2023 in Washington, D.C. Photo: Anna Moneymaker/Getty Images
Former vice president Pence said in an interview aired Friday by NBC News that he's confident there will be "better choices" than former president Trump in the 2024 presidential race.
Why it matters: Pence, who has made a break from Trump since the Jan. 6 insurrection, is still mulling a rare bid against a former running mate — a face-off that could get ugly if the Indiana conservative takes on the bombastic former president.
What he's saying: "I think by the spring our family expects to have a very clear sense of our calling," Pence told NBC News' Ali Vitali when asked when he will decide whether to launch a presidential bid.
"I think the times call for different leadership," he said. "I'm confident we'll have better choices than my old running mate."
Pence, who said he has not spoken with Trump lately, also noted that Americans "want to see us and our politics return to the kind of civility and respect that Americans show one another every day."
"I'm very confident that Republican primary voters are going to choose the right standard bearer for this moment in our nation's history," he said. "Someone that can provide not only the policies in leadership but the style of leadership that will help bring our nation back."
NBC said it will air more from the interview on Saturday.
The big picture: So far, former ambassador to the United Nations Nikki Haley is the only Republican to have publicly announced a challenge to Trump.
Worth noting: Pence has been subpoenaed by the special counsel investigating Trump and has said he will fight the "unconstitutional" move.
Source: Read Full Article