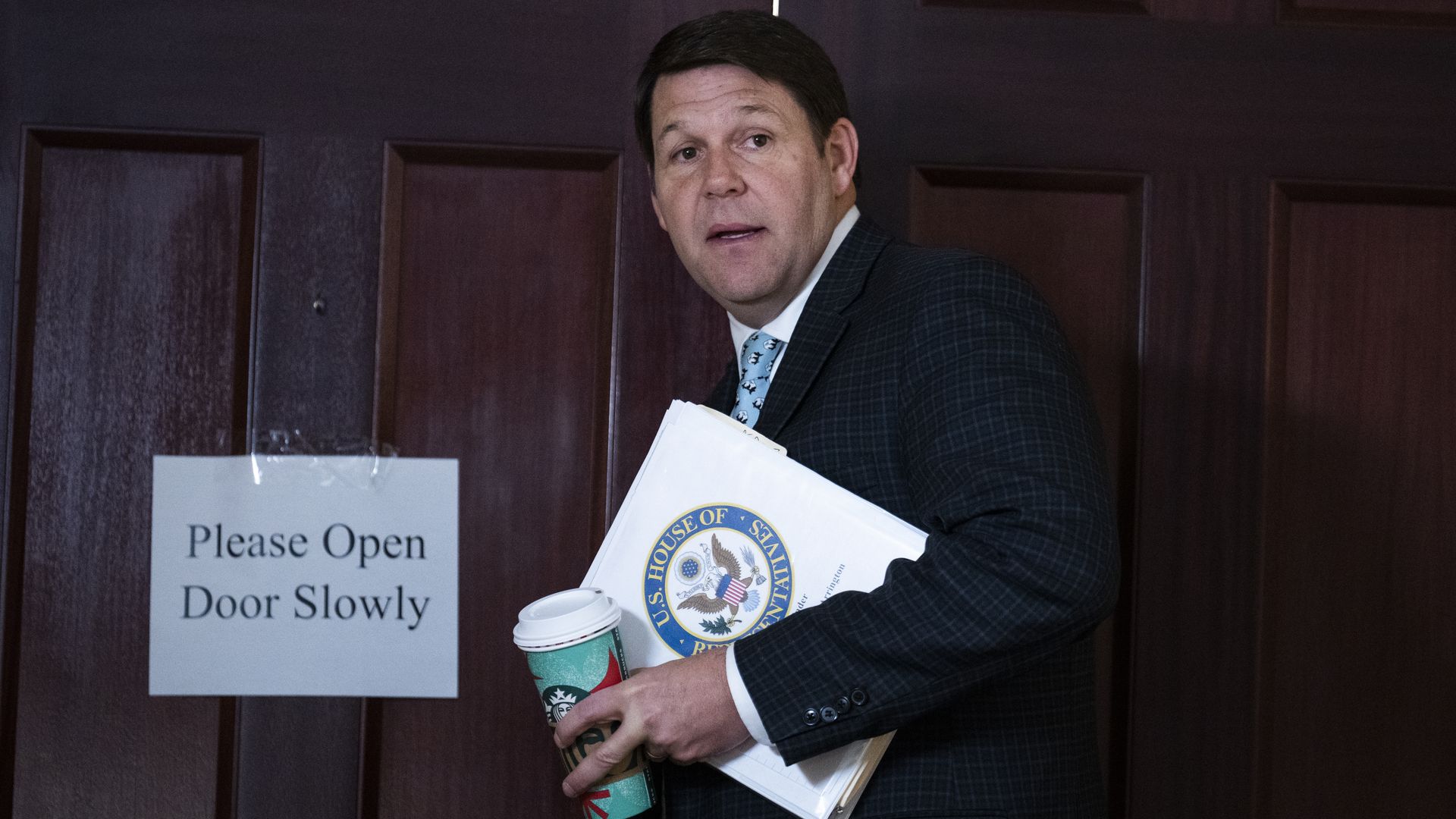 House Budget Chair Jodey Arrington (R-Texas). Photo: Tom Williams/CQ-Roll Call, Inc via Getty Images
The White House is going after a top House Republican who said the collapse of Silicon Valley Bank and Signature Bank demonstrate the need for government spending cuts.
Why it matters: It's the latest indication that the bank collapses are doing more to fuel a messaging war than produce bipartisan cooperation over banking regulations or depositor protections.
Driving the news: House Budget Committee Chair Jodey Arrington (R-Texas) told Punchbowl News that the bank collapses only heighten the urgency of Republicans' demands to cut spending as a prerequisite for raising the debt ceiling.
"This is the best time to do it," he told the outlet. "That interest rate pressure that is creating some risk in the banking industry is a result of the inflation that has been induced by the massive amounts of spending."
House Republicans coalesced around inflation and Democrats' spending bills as one of three prime culprits for the bank collapses in a call last week, according to a member on the call.
What they're saying: In a statement first provided to Axios, White House spokesperson Andrew Bates said Republicans should "reconsider their economic hostage taking on behalf of … massive cuts to health care, our economic competitiveness, and our national security" in the wake of SVB.
Instead, Bates said, Republicans are "exploiting the bank failures they helped cause and threatening to worsen economic volatility unless they can implement their budget policies."
Context: Silicon Valley Bank's collapse was spurred in part by their sale of long-term bonds at a massive loss due to Federal Reserve interest rate hikes aimed at cooling off inflation.
But lawmakers in both parties have also accused SVB of failing to properly manage risk — and regulators of not conducting adequate oversight and stress testing.
Zoom in: Arrington is far from alone in his view. House Republicans across the ideological spectrum, some on key committees involved in government spending and banking policy, voiced alignment with him in interviews with Axios on Wednesday.
"1,000% agree," said Rep. Blake Moore (R-Utah), a more moderate member of the tax-focused Ways and Means Committee. "It's bad economic policy that leads to catastrophic events later on, and hopefully we can squash it."
Rep. Andy Barr (R-Ky.), a member of the Financial Services Committee, told Axios that Arrington is "absolutely right. The underlying cause of the Silicon Valley Bank failure was overspending and inflation."
What we're watching: Republicans said to expect them to point to the bank collapses frequently as the fight over spending and the debt limit heats up.
"You can count on this Republican doing that, yeah. At every opportunity," said Rep. Dan Bishop (R-N.C.), a member of the right-wing Freedom Caucus, which has used its leverage to make big demands on spending.
Moore said if the bank failures don't come up as an example of the cautionary tale of Democrats' spending policies, "Then we're not being realistic or objective about what the real [cause] to all this inflationary pressure is."
Source: Read Full Article