Beijing: China has sanctioned seven Taiwanese officials for supporting Taiwan's independence, its state media reported on Tuesday.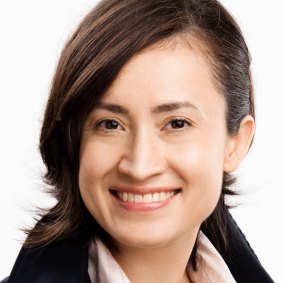 Hsiao Bi-khim, the de facto Taiwanese ambassador to the US.
The sanctions come after US House Speaker Nancy Pelosi visited the island earlier this month and other American legislators arrived this week, moves that China said had sent a wrong signal to pro-independence forces on the island.
Democratically self-ruled Taiwan rejects China's claim of sovereignty.
Chinese state news agency Xinhua said among those sanctioned by China's Taiwan Affairs Office were Hsiao Bi-khim, the de facto Taiwan ambassador to Washington, and Wellington Koo, secretary-general of Taiwan's National Security Council.
Politicians from the ruling political party, Democratic Progressive Party, were also sanctioned.
A Taiwan Affairs Office spokesperson said that those sanctioned would not be able to visit China, Hong Kong or Macau. Firms and investors related to them would not be allowed to profit in China.
Chinese fighter pilots conduct combat training exercises around Taiwan.Credit:AP
"For some time, a few diehard separatist elements, out of their own interests, have gone to lengths to collude with external forces in provocations advocating Taiwan independence," state news agency Xinhua cited the spokesperson as saying.
"They have deliberately instigated confrontations across the Taiwan Strait, and recklessly undermined peace and stability in the region."
Taiwan's Foreign Ministry said in response that the island was a democracy that "could not be interfered with by China".
"Even more, we cannot accept threats and menace from authoritarian and totalitarian systems," ministry spokesperson Joanne Ou told reporters in Taipei.
The sanctions will have little practical impact as senior Taiwanese officials do not visit China.
The seven are in addition to Taiwan Premier Su Tseng-chang, Foreign Minister Joseph Wu and parliament Speaker You Si-kun who were previously sanctioned.
Chinese information warfare
Meanwhile, Taiwan accused China of exaggeration after the Chinese military published footage of the strategically located Penghu islands, where there is a major Taiwanese air base, saying it was not true Chinese forces had come near them.
China carried out military exercises around Taiwan this month after Pelosi's visit.
The Chinese military unit responsible for the area adjacent to Taiwan, the People's Liberation Army's Eastern Theatre Command, on Monday released video of the Penghu islands, apparently taken by a Chinese air force aircraft.
Taiwan Air Force Vice Chief of Staff for Operations Tung Pei-lun told reporters that this was Chinese information warfare, though he said he had no comment on who had taken the video.
"China used the exaggerated tricks of cognitive warfare to show how close it was to Penghu – which is not true," Tung said.
Taiwan's Defence Ministry, in an update of Chinese air force activity, showed on a map that the closest Chinese aircraft to Penghu that day were four J-16 fighters.
The fighters crossed the Taiwan Strait median line – normally an unofficial barrier between the two sides – but stayed closer to the Chinese coast than Penghu, the map showed.
Tung said that Taiwan had a real-time grasp of what was going on in the skies, and that Chinese aircraft have been operating to the north and south-west of Taiwan and across the median line.
Reuters
Get a note directly from our foreign correspondents on what's making headlines around the world. Sign up for the weekly What in the World newsletter here.
Most Viewed in World
From our partners
Source: Read Full Article