With coal prices camped out in record territory, what better time for ex-billionaire Nathan Tinkler to be both discharged from bankruptcy and free from the corporate ban that prevented him from managing companies for so many years.
On Monday, Tinkler made a dramatic re-entry to the corporate scene with a takeover bid for ASX-listed mining minnow, Australian Pacific Coal (APC). His bid gazumped a planned shareholder meeting that morning that would have handed its coal asset, the Dartbrook coal mine, to the prince of pearls, Nick Paspaley.
Nathan Tinkler, pictured in 2010 at Sydney's Randwick racecourse, surfed the Australian 'coal rush'.Credit:Nic Walker
APC had previously agreed to sell its coal assets to the billionaire head of the family-owned pearling outfit the Paspaley Group, in return for the extinguishment of $30 million of debt APC owes Paspaley and his business associates.
Paspaley and his pals are also major shareholders and don't look like they are happy with Tinkler's deal to acquire a 20 per cent stake in APC — to help refinance the company — and become executive chairman ahead of the proposed takeover.
The deal is predicated on a number of conditions, including Paspaley and associates that includes Trepang Services, extending the cut-off date for their deal beyond the current Tuesday deadline.
"Trepang Services Pty Ltd has advised APC that it will not agree to an extension of the cut-off date in respect of the Trepang transaction," APC said on Monday.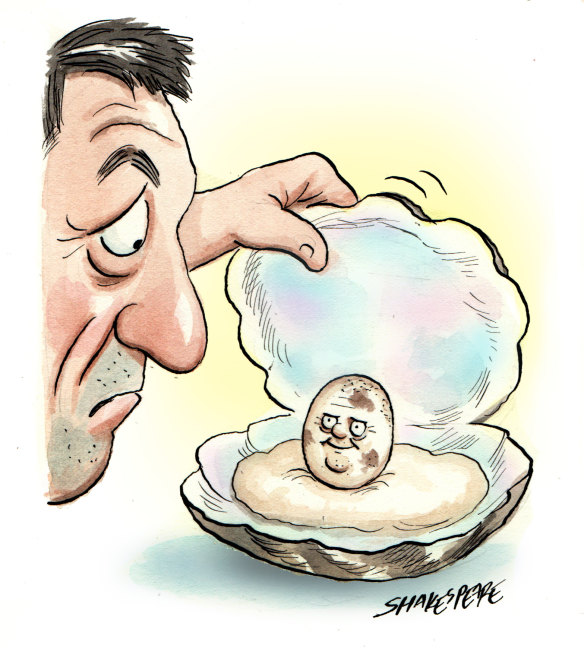 Credit:John Shakespeare
The APC deal represents unfinished business for Tinkler who was forced to stand down as the company's chief executive in 2016 after being declared bankrupt. His bankruptcy was annulled in 2019 and the corporate ban ended last year.
Back in 2016, Paspaley and Trepang Services had partnered with Tinkler to acquire the Dartbrook coal mine, and they stayed the course following the former billionaire's departure.
One thing's for sure, Nick Paspaley is certainly taking a different environmental line to his pearling business.
"Paspaley is dedicated to environmental responsibility and sustainability. These have become fashionable concepts in recent years but they have been critical to good pearl producers for decades," its website says.
NBA hall-of-famer and pop-cultural giant Shaquille O'Neil is set to take over Sydney's very own Marquee club this weekend.Credit:Getty
Crypto Baller
NBA legend Shaquille O'Neal is Down Under for a speaking tour, gracing Melbourne on Thursday night with "uncensored conversations about his life" at the Margaret Court Arena.
But he's not done there. O'Neal, a giant of the investing world, will also talk finance with a more intimate audience of 200 at Sydney's Pier One. He'll be joined by celebrity accountant Brett Kelly, half owner and founder of ASX-listed bean counters Kelly Partners.
According to Kelly's peeps, Shaq will be regaling the audience with tales of his career and finances, NOT sport.
The good news is his investment advice will extend beyond "being a 7-foot one-inch basketball freak with Hall of Fame-level earnings", and a lucrative sideline spruiking for Aussie betting shop, PointsBet.
For one, he was an investor in Google and — last year at least — was not a fan of cryptocurrencies.
Last year, O'Neal said he's often approached by crypto companies for potential partnerships and promotional work: "I always get these companies that say, 'Hey, we'll give you $US900,000 in crypto to send out a tweet.' So, I have to say, 'OK, if you're going to give me a million dollars worth of crypto, then why do you need me?'"
Everybody needs good legal representation
The Australian law awards were announced on Friday, naming the best barristers and general counsels around the country. Melbourne's own Darren Mort took home the gong for barrister of the year, after 30 years of practising in family law and family violence — and 30 years as an actor.
You might recognise Mort, a classic Gemini with his fingers in many pies, for his appearances on Neighbours, Dr Blake's Murder Mysteries, Blue Heelers, City Homicide and Underbelly.
He's also been recognised internationally for his 2016 short film on family violence, Degree of Separation, and has been writing Isla's Song about international child abduction alongside acting as director for his charitable foundation, the To Be Loved Network.
Busy, busy, busy!
Federal teals already on hustings
The dust has hardly settled after this year's election campaign, but the teal independents are already back on the hustings.
Zoe Daniel, the newly minted member for Goldstein after pipping the blue-ribbon seat from Liberal Tim Wilson, and Dr Monique Ryan, who took out Kooyong from under former treasurer Josh Frydenberg, have been spotted on the streets with their team in campaign T-shirts.
Daniel has been at Brighton and Bentleigh on her Saturday mornings, saying hi to locals, while Ryan was out on Market Place in Camberwell this weekend.
Up in Sydney, Allegra Spender has made a similar habit, visiting the markets in Wentworth with her volunteers and a sandwich board.
So, why are the triumphant teals back on the streets meeting voters when a federal poll isn't due until 2025?
"I want politics to be a two-way conversation and I think that's what the community wants as well," Spender said.
Some campaign-weary locals were surprised to see her.
"A few people did ask 'is there an election on'?"
The Morning Edition newsletter is our guide to the day's most important and interesting stories, analysis and insights. Sign up here.
Most Viewed in National
From our partners
Source: Read Full Article