The nation of 4.8 million is the final stop on the couple's busy 16-day tour of Australia and the Pacific.
They arrived in Wellington on a Royal New Zealand Air Force plane alongside members of the country's Invictus team, the sporting event founded by Prince Harry for wounded military veterans.
They were greeted by Prime Minister Jacinda Ardern and Wellington Mayor Justin Lester.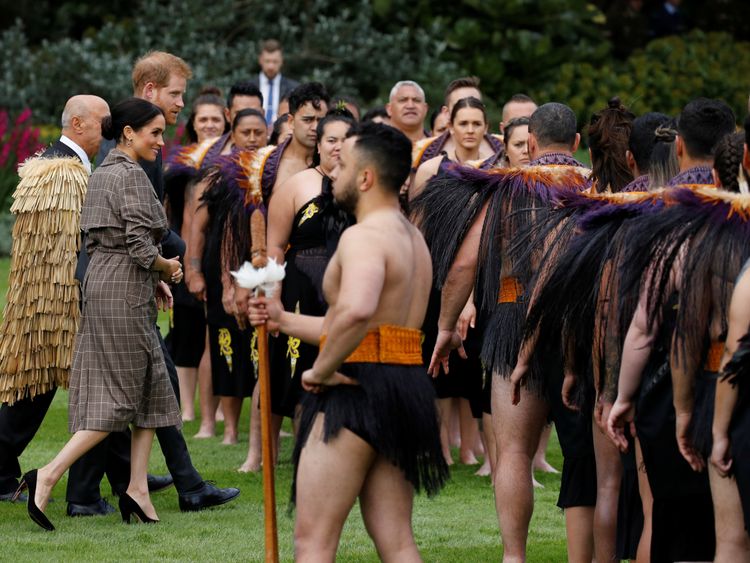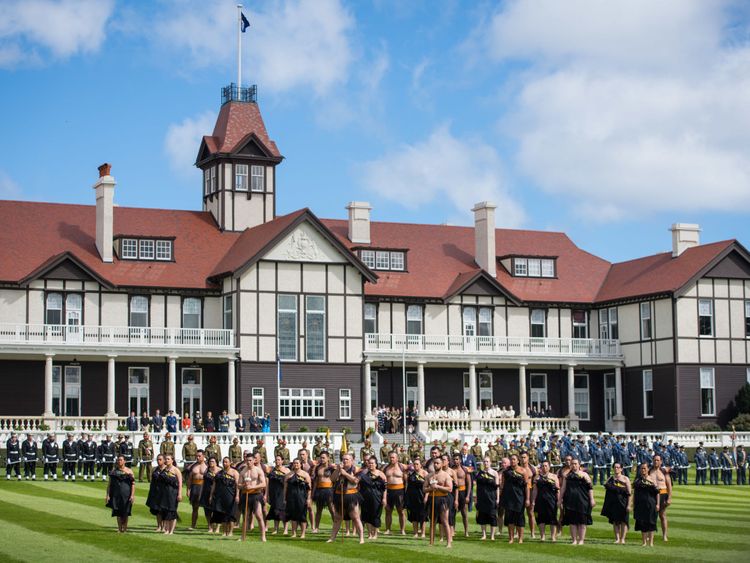 At Government House they were welcomed with a powhiri, which involves singing, dancing and finally a hongi – pressing of noses with Maori elders.
They were also treated to a haka from members of the New Zealand Defence Force and a 21-gun salute.
Members of the public presented the couple with gifts, including a Buzzy-Bee – a toy that has been part of the lives of New Zealand children for almost 75 years.
Pictures of Harry's brother, the Duke of Cambridge, playing with the toy during the visit of the Prince of Wales and Diana in 1983 made front pages around the world.
Meghan, who is expecting the couple's first child in the spring, wore an ASOS maternity wear dress and a trench coat by New Zealand designer Karen Walker.
After laying a wreath at the new UK war memorial at Pukeahu National War Memorial Park, the royal couple attended a reception hosted by Governor-General Patsy Reddy celebrating 125 years since New Zealand women were given the right to vote.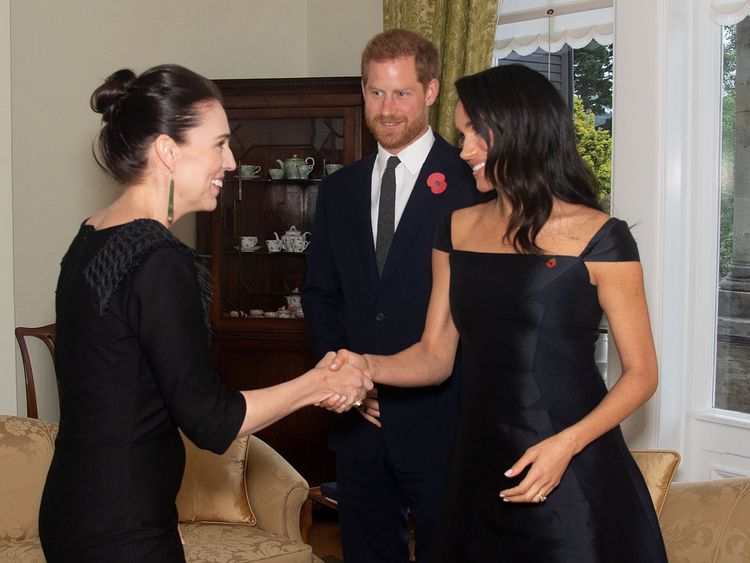 The Duchess of Sussex spoke at the event, saying: "The achievements of the women of New Zealand who campaigned for their right to vote and were the first in the world to achieve it, are universally admired.
"In looking forward to this very special occasion, I reflected on the importance of this achievement, but also the larger impact of what this symbolises.
"Because yes, women's suffrage is about feminism, but feminism is about fairness.
"Suffrage is not simply about the right to vote but also about what that represents: the basic and fundamental human right of being able to participate in the choices for your future and that of your community, the involvement and voice that allows you to be a part of the very world that you are a part of."
During the next three days in New Zealand, Harry and Meghan will enjoy a hike and barbecue at Abel Tasman National Park in the South Island, a reception with Ms Ardern at Auckland's War Memorial Museum and a visit to the North Island tourist resort of Rotorua.
They will leave New Zealand on Thursday.
Source: Read Full Article