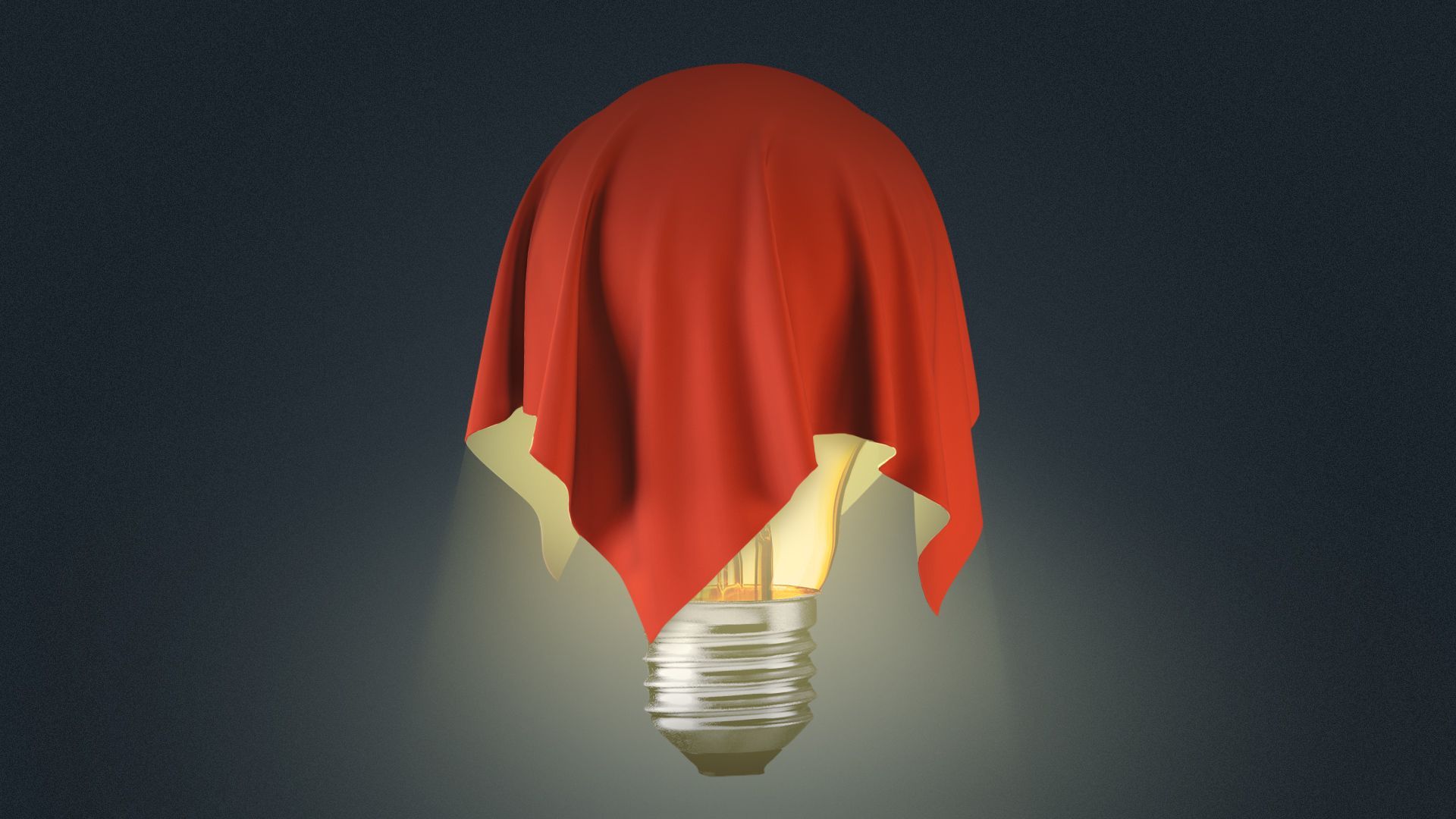 Illustration: Aïda Amer/Axios
Semafor, the 5-month-old news startup, is drawing criticism in the U.S. for partnering with a think tank in China that is known to have close ties to the Chinese Communist Party. The group has in the past obscured those ties to Western audiences.
Why it matters: The collaboration is notable because the organization Semafor is partnering with — and its leader — has a track record of misleading Western audiences about its affiliation with the CCP.
What's happening: Semafor last week announced a new initiative called "China and Global Business" to serve as a platform for business leaders to discuss U.S.-China relations.
The partnership has been developed with a group called the Center for China and Globalization (CCG). The center's founder and director, Wang Huiyao, sits on the board of Semafor's initiative.
Semafor published a blog post Sunday evening with details about the partnership. The platform "will be exclusively underwritten by corporate partnerships with no financial contributions from our local Chinese partners or the Chinese government," CEO Justin Smith wrote. Smith is the former CEO of Bloomberg Media. Under his tenure, Bloomberg struck a partnership with another Chinese think tank that helped the company put on a marquee event in China.
Smith said Semafor "deliberately and explicitly structured" its agreements with partners of the initiative to protect its journalistic independence. "We have 100% editorial and commercial control and the project is fully owned and operated by Semafor," he wrote.
Catch up quick: CCG claims to be independent but was founded under the auspices of the Western Returned Scholars Organization.
That group is directed by the United Front Work Department (UFWD), a bureau of the Chinese Communist Party focused on amplifying support for the party and marginalizing dissent, both inside and outside of China's borders.
Alex Joske, an Australian expert on UFWD, wrote in a 2018 report that Wang is an "adviser to the UFWD, a member of several united front groups and an important figure in the development of China's talent recruitment strategy."
In the past, CCG and Wang have denied any affiliation with the UFWD. In 2018, Wang bowed out of appearing on a panel discussion about the UFWD after his affiliation with that department became public.
Wang also does not list anywhere in his current bio on his website that he has been an adviser for the UFWD specifically or that he is affiliated with the Western Returned Scholars Association.
But he previously wrote in his Chinese-language biography on the center's website that he held a position as adviser to the UFWD specifically. (He didn't disclose that detail on his English-language bio at the time.)
He deleted the mention from his Chinese language bio after Foreign Policy reported the affiliation in 2018. Some of his U.S. interlocutors have said that he has denied it, according to sources with knowledge of the matter.
CCG at the time tried to downplay Wang's ties to the UFWD, writing on its website that Foreign Policy's article "does not accurately reflect how nonprofits work in China."
CCG did not respond to a request for comment.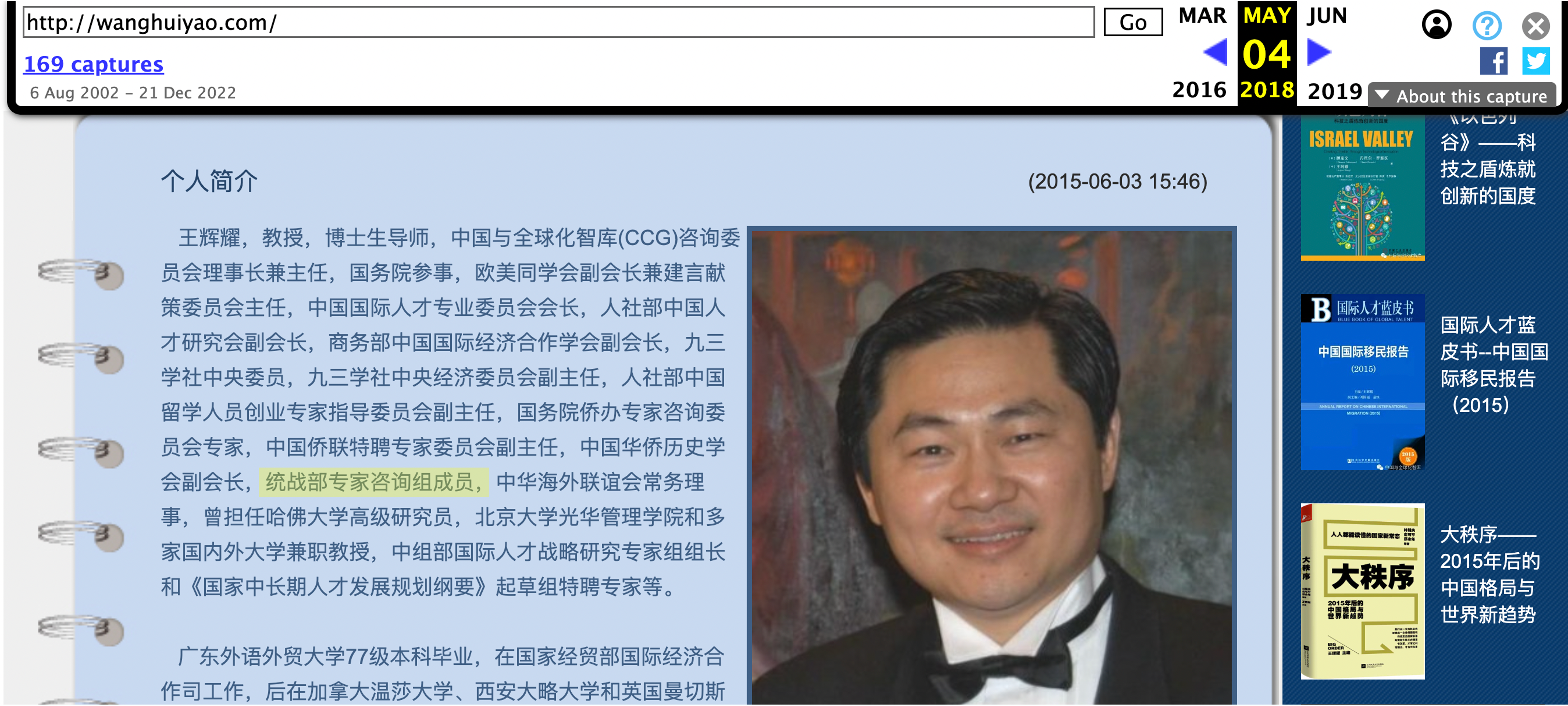 Between the lines: Wang is well-connected in China. According to Semafor, CCG will "secure required approvals, and issue formal invitations to Chinese speakers and audience members. CCG will take on local administrative responsibilities and coordinate with local sponsors, and Semafor will pay CCG for their services."
Other members of Semafor's initiative board include former People's Bank of China governor Zhou Xiaochuan and Chen Deming, the former minister of commerce.
Be smart: The speech and activities of Chinese Communist Party-linked groups are strongly influenced by Beijing.
Semafor has not detailed how it plans to disclose to its audiences during live events or via digital coverage details about the group's affiliation to the CCP.
"We're entering this endeavor with our eyes wide open and we welcome the scrutiny that comes with it," Smith said in the blog post explaining the partnership. "We aren't under the illusion that Chinese business leaders or other local groups operate independently of the Chinese Communist Party."
While national security agencies have developed protocols for how they deal with CCP-linked groups, any transparency standards set by Semafor in its dealings with the center would be noteworthy.
The big picture: Semafor launched in October after raising roughly $25 million from a slew of wealthy individuals and family offices.
Earlier this month, Semafor said it would buy out the $10 million it raised from disgraced FTX founder Sam Bankman-Fried.
Asked to clarify who is on Semafor's board and whether any of the people who fund Semafor are linked to foreign governments or wealth funds, Semafor spokesperson Meera Pattni said:
"Justin [Smith] is the sole director and we are in the process of building out an independent board consistent with industry best practices for a new company."
"We expect to have an independent board in place by the time we raise our first priced fundraising round. On the latter question — No."
Source: Read Full Article