Military planes flew to North Korea capital Pyongyang from the southern island of Jeju on Sunday and Monday, according to Seoul's defence ministry.
The exchange is another sign that South Korean president Moon Jae-in remains committed to the recent warming of relations with North Korea.
Following a summit in September, North Korea gave two tonnes of pine mushrooms to its neighbour as a goodwill gesture.
Pine mushrooms are white and brown fungi considered a healthy delicacy in both Koreas and other Asian countries.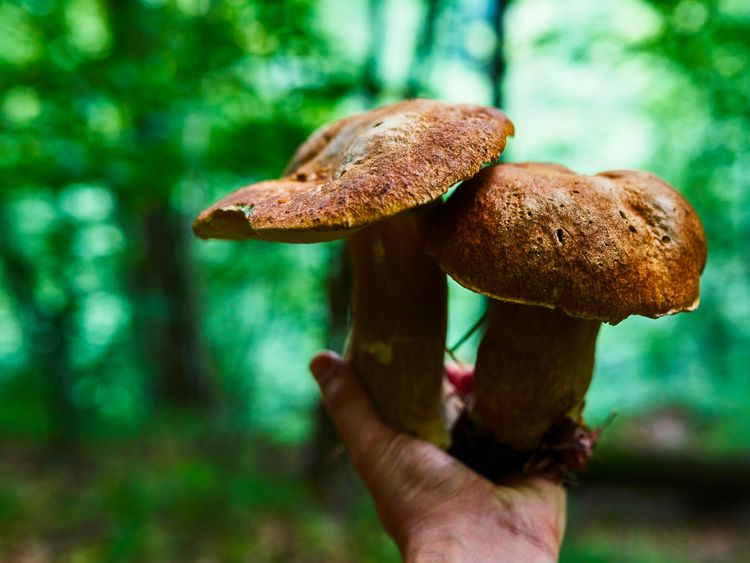 They are one of the North's most-prized products – and the country sent them to South Korea in 2000 and 2007 after previous summits.
Mr Moon is only the third South Korean leader to visit Pyongyang for a meeting between the two countries since the end of the Second World War.
After September's meeting, North Korean leader Kim Jong Un also gave Mr Moon two white Pungsans – a breed of North Korean hunting dog.
That was a repeat of a gesture in 2000, when Kim Jong Il gave South Korea's Kim Dae Jung two Pungsans to mark a summit.
On Monday, Mr Moon tweeted that one of the dogs, named Gomi, had just given birth to six puppies.
He said: "Six dogs were added to a gift of two dogs. I cannot help saying it's a big fortune and I hope that South-North ties will be like this."
Pungsans are known for their loyalty and bravery during hunting.
After it sent the Pungsans to the South, the North received two indigenous Jindo dogs in return.
Despite improving relations between the Koreas, there have been no recent breakthroughs in US-led diplomacy aimed at stripping the North of its nuclear programme.
It recently postponed high-level talks with the US on the North's disarmament and on setting up a second summit between President Donald Trump and Mr Kim, according to officials in Seoul and Washington.
The North said it was willing to deal away its growing nuclear weapons arsenal during talks with the US and the South earlier this year.
It has since taken measures such as dismantling its nuclear test site and parts of its rocket-engine testing facility.
However, US officials want it to take more significant, irreversible steps toward denuclearisation.
Mr Moon is hopeful that better ties between the Koreas will improve the nuclear issue, and has met Mr Kim three times this year.
Source: Read Full Article