US Treasury yields lower after Fed cuts rates
On the data front, there will be jobless claims and current account numbers due at 08:30 a.m. ET, and existing home sales due at 10:00 a.m. ET.
The Treasury is set to auction $50 billion in 4-week bills, $40 billion in 8-week bills and $32 billion in 7-year notes.
U.S. government debt prices were higher Thursday morning, after the Fed failed to signal further rate cuts this year, disappointing market expectations.
At around 02:10 a.m. ET, the yield on the benchmark 10-year Treasury note, which moves inversely to price, was lower at around 1.7787%, while the yield on the 30-year Treasury bond was also lower at around 2.2234%.
This comes after the Federal Reserve cut the overnight rate by 25 basis points on Wednesday. This is the second time this year the Fed has lowered rates. However, the central bank dampened market expectations by steering clear of signalling further rate cuts this year.
U.S. Markets Overview: Treasurys chart
On the data front, there will be jobless claims and current account numbers due at 08:30 a.m. ET, and existing home sales due at 10:00 a.m. ET.
The Treasury is set to auction $50 billion in 4-week bills, $40 billion in 8-week bills and $32 billion in 7-year notes.
Lamprell Plc Posts Wider Loss In H1 – Quick Facts
Lamprell plc (LAM.L) reported that its first-half results were in line with expectations. Looking forward, the Group maintained its 2019 revenue guidance range at $275 million to $350 million, with 100% coverage for the bottom end secured.
For the six months ended 30 June 2019, loss before income tax was $51.9 million compared to a loss of $20.8 million, prior year. Loss per share in cents was 15.20 compared to a loss of 6.42.
First-half revenue declined to $106.4 million from $155.1 million, last year. The Group said the acceleration of progress on the Moray East renewables project will result in a stronger revenue generation in the second half of the year.
Lamprell plc said its Directors do not recommend the payment of an interim dividend for the period in relation to current financial year ending 31 December 2019.
Milan Fashion Week: Highlights
Norway c.bank forecasts weaker crown vs earlier reports -governor
OSLO, Sept 19 (Reuters) – The Norwegian central bank is now forecasting a weaker development for Norway's crown currency than it did in previous projections, Governor Oeystein Olsen told a news conference on Thursday. (Reporting by Terje Solsvik, editing by Gwladys Fouche)
Matt Drudge predicts this 2020 Dem has the 'nomination to lose'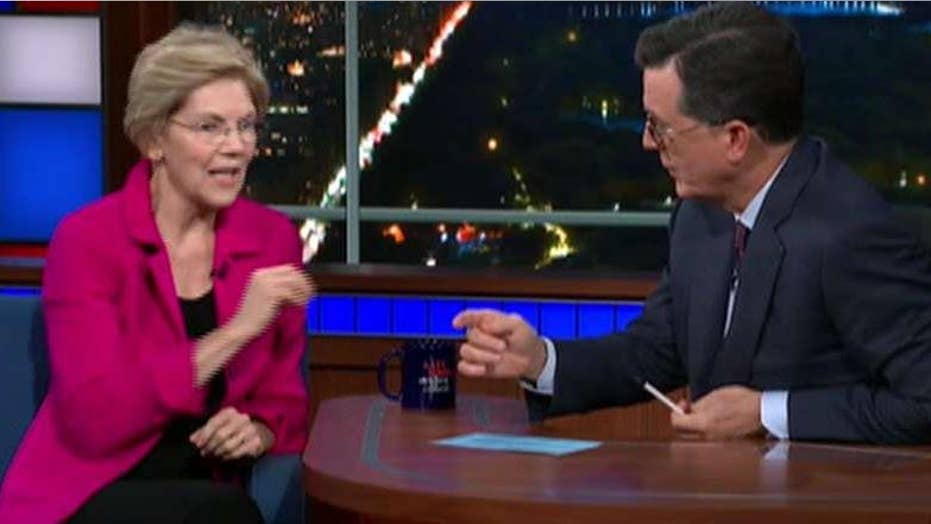 Elizabeth Warren dodges question on whether she will raise taxes on middle class to pay for 'Medicare-for-all'
Katie Pavlich and Antjuan Seawright weigh in on how 2020 hopeful Sen. Elizabeth Warren will pay for 'Medicare-for-all.'
Iconic conservative blogger Matt Drudge on Wednesday announced who he thought was going to be the Democratic nominee in 2020.
Drudge, founder of the news aggregation site The Drudge Report, took to Twitter and shared an image from Massachusetts Sen. Elizabeth Warren's rally she held in New York City this week, which reportedly had 20,000 attendees.
"It's Elizabeth Warren's nomination to lose…" Drudge tweeted.
Last year, Drudge correctly predicted that Democrats would win back the House of Representatives, but overestimated by claiming they would pick up 60 seats instead of the roughly 40 they flipped from Republicans.
However, in February 2016, Drudge predicted early on that Donald Trump would become the GOP nominee.
Warren has picked up momentum in most polls in recent months, but in the latest Fox News poll, she placed third with 16 percent, following former Vice President Joe Biden's 29 percent and her progressive colleague Vermont Sen. Bernie Sanders' 18 percent.
Next pretax profit up, backs full-year guidance
Boosted by growing online sales, pretax profit for Next PLC rose 4% in the first half of its fiscal year.
For the six-month period ended July 27, the clothing and home-furnishings retailer NXT, -4.21% made a pretax profit of 327.4 million pounds ($408.5 million), compared with GBP314.9 million this time in the prior year. Earnings per share, a preferred metric by the company, was 204.4 pence, up from last year's 187.9 pence.
Revenue for the period rose 2.7% to GBP2.01 billion. Retail sales contributed GBP874.3 million to revenue, compared with GBP925.1 million a year earlier, while online sales rose this half with 13% growth, at GBP1.0 billion.
The board declared an interim dividend of 57.5 pence a share, compared with last year's 55.0 pence.
The group maintained its guidance of GBP725 million in pretax profit for the year, and said that earnings per share is expected to rise 5.2%.
U.K. retail sales slip 0.2% in August
U.K. retail sales fell 0.2% in August, as the prior month's gain from Amazon Prime Day reversed with a drop in non-store retailing. Economists polled by FactSet had forecast a 0.2% dip. The year-on-year growth rate slowed to 2.7% from 3.3%.
Spectris To Sell BTG Group To Voith GmbH For EUR 319 Mln Cash – Quick Facts
Instrumentation and controls company Spectris plc (SEPJF.PK,SXS.L) announced Thursday that it has agreed to divest BTG Group to privately held Voith GmbH & Co. KgaA for a total gross cash consideration of 319 million euros or 283 million pounds.
The sale is subject to customary closing conditions and regulatory approvals, with completion expected to take place in the fourth quarter.
The proceeds from the sale will be used to further strengthen Spectris' balance sheet ahead of investing in growth opportunities, in line with its strategy.
BTG, part of Spectris' Industrial Solutions segment, provides specialised measuring instruments, software and services. As of June 30, the book value of BTG's gross assets amounted to 140.3 million pounds. In 2018, the division's adjusted EBITDA was 24.5 million pounds.
Spectris said the sale is in line with its strategy to simplify and focus portfolio and to concentrate on developing its presence in specific high-growth end markets.
Andrew Heath, Spectris Chief Executive, said, "Voith is a highly respected player in the pulp and paper market and BTG is highly complementary to their product offering."